Chocolate Cake Recipe
Chocolate Cake: Preheat oven to 350 degrees F (177 degrees C) and place rack in center of oven.
In an ungreased 8 inch (20 cm) square cake pan, stir together the flour, sugar, sifted cocoa powder, baking powder, baking soda, and salt.
Add the melted butter, water, lemon juice, and vanilla extract. With a fork, mix all the ingredients together until well blended.
Bake in preheated oven for about 30 minutes, or until the cake springs back when lightly pressed and a toothpick inserted in the center of the cake comes out clean. Remove from oven and place on a wire rack to cool.
Frosting: Place the chopped chocolate, cream, and butter in a heatproof bowl. Place over a saucepan of simmering water and melt until smooth. Remove from heat and let stand at room temperature until it is of pouring consistency. Then pour the frosting over the cooled cake. Let stand until frosting has thickened.
Serves 8 - 10 people.

Scan for Demonstration Video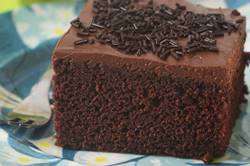 Chocolate Cake:
1 1/2 cups (195 grams) all purpose flour
1 cup (200 grams) granulated white sugar
1/4 cup (25 grams) unsweetened cocoa powder (not Dutch-processed), sifted
1 teaspoon baking powder
3/4 teaspoon baking soda
1/4 teaspoon salt
1/3 cup (75 grams) unsalted butter, melted
1 cup (240 ml) warm water
1 tablespoon lemon juice (or vinegar)
1 teaspoon pure vanilla extract
Chocolate Frosting:
6 ounces (170 grams) semi-sweet chocolate, chopped
3/4 cup (180 ml) heavy cream (double cream) (35% butterfat)
1 tablespoon unsalted butter, room temperature