Chocolate Fondue Recipe
Place the chopped chocolate in a medium sized stainless steel bowl and set aside.
Combine the cream, milk, sugar, and corn syrup in a saucepan and place over medium heat. Bring to a boil, stirring often.
Remove from heat and pour immediately over the chocolate. Let stand until the chocolate has melted, then whisk until smooth.
Whisk in vanilla extract, Nutella (if using), and the liqueur (if using).
Place the chocolate sauce in a fondue pot and serve with fresh fruits, chunks of pound, butter, sponge, or angel food cake and cookies (amaretti, ladyfingers, rolled wafer cookies, or biscotti). Reheat the sauce if it becomes too thick.
Makes about 1 1/2 cups.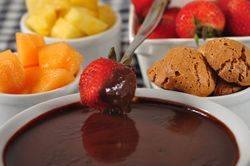 Chocolate Fondue Recipe:
6 ounces (170 grams) semisweet or bittersweet chocolate, cut into small pieces
1/2 cup (120 ml) heavy whipping cream (contains 35-40% butterfat)
1/4 cup (60 ml) milk
2 1/2 tablespoons (35 grams) granulated white sugar
2 tablespoons light corn syrup
1 teaspoon pure vanilla extract
1/4 cup Nutella (optional)
1 tablespoon liqueur (such as Frangelico, Grand Marnier, Kahlua, Tia Maria, Amaretto, or a brandy) (optional)