Pie Crust: In a food processor, place the flour, salt, and sugar and process until combined. Add the butter and process until the mixture looks like coarse crumbs. Pour 1/4 cup (60 ml) water in a slow, steady stream, through the feed tube until the dough just holds together when pinched. If necessary, add more water. Turn the dough onto your work surface and gather into a ball. Divide the dough in half, flattening each half into a disk, cover with plastic wrap, and refrigerate for about one hour, or until firm.
After the dough has chilled, remove one portion from the fridge and place on a lightly floured surface. Roll the pastry into a 12 inch (30 cm) circle. (To prevent the pastry from sticking to the counter and to ensure even thickness, keep lifting up and turning the pastry a quarter turn as you roll (always roll from the center of the pastry outwards).) Fold the dough in half and transfer to a 9 inch (23 cm) pie pan. Tuck the overhanging pastry under itself, crimping as desired. Cover and refrigerate for about 30 minutes before filling. Then remove the second round of pastry and roll it into a 12 inch (30 cm) circle. Using a 2 1/2 inch (6 cm) heart shaped cookie cutter, cut out about 20 hearts. Place the hearts on a parchment paper-lined baking sheet, cover with plastic wrap, and place in the refrigerator for about 30 minutes.
Cranberry Raisin Filling: Place the raisins, water, orange juice, and lemon juice in a saucepan and bring to a boil. Add the cranberries and cook until their skins pop, about 3-5 minutes. Remove from heat, add the apples, sugar, candied peel, nuts, orange rind, ground cinnamon and salt, and let cool.
Preheat oven to 425 degrees F (215 degrees C). Pour the filling into the pie pan lined with pastry. Cut 1 tablespoon of butter into small pieces and sprinkle over the filling. Then, in a small bowl, whisk together one egg and 1 tablespoon cream. Lightly brush the edges of the pastry with the egg wash. Starting at the outside edge of the pie, place the cut out pastry hearts in a circular pattern on top of the filling, making sure the edges of the hearts are touching. Once the top of the pie is completely covered with the pastry hearts, brush the entire surface with the egg wash, making sure that it does not pool. Sprinkle with sugar. Bake until the crust is set and golden brown, about 30 - 35 minutes. Remove from oven and let cool slightly. Best served warm.
Makes 1 - 9 inch (23 cm) pie.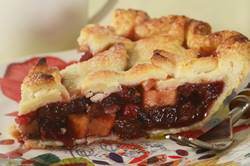 Pie Crust Pastry:
2 1/2 cups (350 grams) all-purpose flour
1 teaspoon salt
2 tablespoon (30 grams) granulated white sugar
1 cup (226 grams) unsalted butter, chilled, and cut into 1 inch (2.5 cm) pieces
1/4 to 1/2 cup (60 - 120 ml) ice water
Cranberry Raisin Filling:
1/2 cup (120 ml) seedless raisins
1/4 cup (60 ml) water
1/4 cup (60 ml) orange juice
1 tablespoon lemon juice
1 1/2 cups (360 ml) raw fresh cranberries
1 cup (240 ml) peeled and diced apple
1/2 cup (105 grams) brown sugar
1/4 cup (60 ml) chopped mixed candied peel (optional)
1/2 cup (120 ml) chopped walnuts
1 teaspoon grated orange rind (outer skin)
1/2 teaspoon ground cinnamon
1/4 teaspoon salt