Cranberry Swirl Cheesecake
Cranberry Filling: In a medium sized saucepan, place cranberries, sugar, and water. Then, over medium-high heat, cook the ingredients until boiling, stirring to dissolve the sugar. Reduce the heat to medium low and gently boil the filling, stirring often to prevent the filling from burning, until it becomes thick and syrupy and reduced to about 2 cups (480 ml). This will take about 20-30 minutes. Remove from heat, stir in the zest, and let cool completely before using. (I like to make and then refrigerate the cranberry filling for a day.)
Cranberry Swirl Cheesecake: Grease, or spray with a non stick vegetable spray, a 9 inch (23 cm) round springform pan. Preheat oven to 350 degrees F (177 degrees C) and place the oven rack in the center of the oven.
Crust: In a medium sized bowl combine the graham cracker crumbs, sugar, and melted butter. Press the crumbs evenly over the bottom and about 1 inch (2.5 cm) up the sides of the springform pan. Cover and refrigerate while you make the filling.
For Filling: In the bowl of your electric mixer (can use a hand mixer) place the cream cheese, sugar, and flour. Beat on medium speed until smooth (about 2 minutes), scraping down the bowl as needed. Add the eggs, one at a time, beating well (about 30 seconds) after each addition. Scrape down the sides of the bowl. Add the cream and vanilla extract and beat until incorporated. Remove the crust from the refrigerator and pour half the cheesecake filling into the pan. Take one-half cup (120 ml) of the cranberry filling and place spoonfuls over the cheesecake batter and then swirl gently with a knife. Top with the remaining cheesecake batter. Spoon another one-half cup of the cranberry filling over the cheesecake batter and swirl gently with a knife. (Leftover cranberry filling can be served with the baked cheesecake.) Place the cheesecake pan on a larger baking pan (to catch any drips) and place in the oven.
Bake for 15 minutes and then lower the oven temperature to 250 degrees F (120 degrees C) and continue to bake for another 60 to 70 minutes or until firm and only the center of the cheesecake looks a little wet and wobbly. Remove from oven and carefully run a knife or spatula around the inside edge of pan to loosen the cheesecake (helps prevent the surface from cracking as it cools).
Let cool before covering with plastic wrap and refrigerating. This cheesecake tastes best after being refrigerated at least eight hours or overnight. Serves about 12-14 people.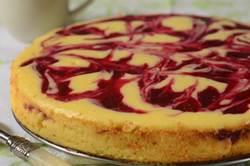 Cranberry Filling:
1 - 12 ounce (340 grams) bag of fresh or frozen cranberries
1/2 cup (100 grams) granulated white sugar
2 cups (480 ml) water
zest of one lemon or orange (outer skin)
Graham Cracker Crust:
2 cups (200 grams) of graham wafer crumbs or finely crushed Digestive biscuits
2 tablespoons (25 grams) granulated white sugar
1/2 cup (113 grams) unsalted butter, melted
Cheesecake Filling:
24 ounces (680 grams) (3 - 8 ounces packages) full fat cream cheese, room temperature
1 cup (200 grams) granulated white sugar
1 tablespoon (12 grams) all purpose flour
4 large eggs, room temperature
1 tablespoon heavy whipping cream
1 teaspoon pure vanilla extract