Oat Bran Muffins: Preheat oven to 400 degrees F (205 degrees C) and place rack in the center of the oven. Line a 12 cup muffin pan with paper liners or else spray with a nonstick vegetable spray.
In a large bowl, stir together the flour, oat bran, sugar, baking powder, baking soda, salt, ground cinnamon, and orange zest.
In another bowl whisk together the lightly beaten egg, molasses (or honey), vanilla extract, oil, and milk.
Add the wet ingredients to the dry ingredients, and stir just until moistened. Gently stir in the raisins. (The batter will be quite thin.)
Pour or ladle the batter to fill the muffin cups, and bake about 16 to 20 minutes or until a toothpick inserted into the center of a muffin comes out clean. Remove from oven and place on a wire rack to cool slightly before serving.
Makes about 12 standard-sized muffins.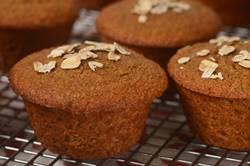 Oat Bran Muffins:
1 cup (130 grams) whole wheat flour
1 cup (150 grams) oat bran
1/3 cup (75 grams) light brown sugar
1 1/2 teaspoons baking powder
1/2 teaspoon baking soda
1/4 teaspoon salt
1/4 teaspoon ground cinnamon
1 teaspoon grated orange zest (outer skin of orange)
1 large egg, lightly beaten
1/4 cup (60 ml) unsulphured molasses or mild flavored honey
1 teaspoon pure vanilla extract
2 tablespoons canola oil
1 1/4 cup (300 ml) milk
1/2 cup (70 grams) raisins or currants