Pumpkin Cranberry Bars Recipe
Preheat oven to 350 degrees F (177 degrees C) and place the rack in the center of the oven. Place the pecans on a baking sheet and bake for about 8 - 10 minutes or until lightly browned and fragrant. Remove from oven, cool completely and then coarsely chop.
Increase the oven temperature to 375 degrees F (190 degrees C) and butter and flour an 9 x 9 inch (23 x 23 cm) pan.
In a large bowl, whisk together the flour, baking powder, baking soda, ground cinnamon, ground allspice, ground ginger, and salt.
In the bowl of your electric mixer, or with a hand mixer, beat the butter and sugar until light and fluffy (2 - 3 minutes). Add the egg and vanilla extract and beat until incorporated. Beat in the pumpkin puree until incorporated (the batter will look curdled at this point). Gradually add the flour mixture, mixing only until combined. Stir in the chopped toasted pecans and dried cranberries. Spread the batter into the prepared pan and bake for about 30 - 35 minutes or until a toothpick inserted into the center of the bars comes out clean. Remove from oven and place on a wire rack to cool. Cut into 16 - 2 inch (5 cm) bars.
Frosting: In a bowl beat the whipping cream and mascarpone cheese until light and fluffy. Add sugar to taste. Spoon a dollop of cream on top of each bar. Top with fresh pumpkin seeds.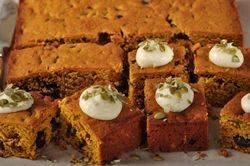 Pumpkin Cranberry Bars:
1 cup (100 grams) pecans
2 cups (260 grams) all purpose flour
1 teaspoon baking powder
1/2 teaspoon baking soda
1 teaspoon ground cinnamon
1/4 teaspoon ground allspice
1/4 teaspoon ground ginger
1/4 teaspoon salt
1 cup (227 grams) unsalted butter, room temperature
1 cup (200 grams) granulated white sugar
1 large egg
1 teaspoon pure vanilla extract
1 cup (225 grams) pumpkin puree
1 cup (100 grams) dried cranberries (cherries)
Frosting: (Optional)
1/4 cup (60 ml) heavy whipping cream
1/4 cup (60 ml) mascarpone or cream cheese
2 teaspoons granulated white sugar
Fresh Pumpkin Seeds