Pumpkin Cranberry Bread Recipe
Pumpkin Cranberry Bread: Preheat the oven to 350 degrees F (177 degrees C) and place rack in the center of the oven. Butter, or spray with a non stick vegetable spray, one - 9 by 5 x 3 inch (23 x 13 x 8 cm) loaf pan.
In a large bowl, sift or whisk together the flour, baking powder, baking soda, salt, orange zest, cinnamon, ginger, and cloves.
In the bowl of your electric mixer, or with a hand mixer, beat the butter and sugar until light and fluffy (2-3 minutes). Add the eggs, one at a time, beating well after each addition. Beat in the vanilla extract, pumpkin puree, and orange juice. With the mixer on low speed, add the flour mixture and mix just until incorporated. Fold in the chopped cranberries. Pour the batter into the prepared pan and bake the bread for about 55 - 65 minutes, or until a toothpick inserted into the center of the loaf comes out clean.
Remove from oven and place on a wire rack to cool for about 10 minutes before removing bread from pan. Can serve warm, cold, or at room temperature. Store leftovers in the refrigerator or else freeze for later use.
Makes 1 loaf.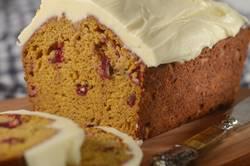 Pumpkin Cranberry Bread:
1 cup (120 grams) fresh or frozen cranberries, coarsely chopped
1 2/3 cups (215 grams) all-purpose flour
1/2 teaspoon baking powder
1 teaspoon baking soda
1/2 teaspoon salt
1 tablespoon orange zest (outer skin of orange) (optional)
1/2 teaspoon ground cinnamon
1/2 teaspoon ground ginger
1/4 teaspoon ground cloves
1/2 cup (113 grams) unsalted butter, room temperature
1 cup (200 grams) granulated white sugar
1 teaspoon pure vanilla extract
2 large eggs
1 cup (240 ml) canned pumpkin puree
1/4 cup (60 ml) orange juice