Pumpkin Spice Cake Recipe
Preheat the oven to 350 degrees F (177 degrees C) and place rack in center of oven. Butter and flour (or spray with Baker's Joy) two - 8 inch (20 cm) cake pans.
Cake: In the bowl of your electric mixer (or with a hand mixer), beat the butter and sugar until light and fluffy (about 2-3 minutes). Add the eggs, one at a time, mixing well after each addition. Scrape down the sides of the bowl as needed. Add the pumpkin puree and vanilla extract and beat until incorporated.
In a separate bowl, whisk together the flour, baking soda, baking powder, salt and spices. Add the flour mixture and buttermilk alternately to the pumpkin batter, in three additions, beginning and ending with the flour mixture. Divide the batter in half and then pour the batter into the prepared pans. Bake for approximately 25 - 30 minutes, or until a toothpick inserted in the center of the cake comes out clean. Cool on a wire rack for 10 minutes and then invert and remove the cakes from their pans. Cool completely before frosting.
Frosting: Place the cream cheese and butter in the bowl of your food processor (or use a hand mixer) and pulse until smooth. Add the maple syrup and confectioners' sugar and process just to combine. (Do not over process or the frosting will be too thin.) Adjust syrup or sugar until you have the right consistency.
Assemble: Place one of the cake layers, top side down, on a serving plate. Frost with a layer of icing. Place the second cake, top side down, onto the first layer and frost the top and sides of the cake. Garnish with toasted nuts, if desired. Refrigerate but bring to room temperature before serving.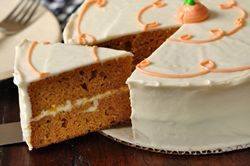 Pumpkin Spice Cake:
1/2 cup (113 grams) unsalted butter, room temperature
1 1/4 cups (270 grams) light brown sugar
2 large eggs
1 cup (240 ml) fresh or canned pure pumpkin (about 1/2 of a 15 ounce can)
1 teaspoon pure vanilla extract
2 cups (200 grams) sifted cake flour
1/4 teaspoon baking powder
1 teaspoon (5 grams) baking soda
1/2 teaspoon salt
1/2 teaspoon ground cinnamon
1/4 teaspoon ground ginger
1/8 teaspoon ground cloves
1/2 cup (120 ml) buttermilk, room temperature
Cream Cheese Frosting:
8 ounces (228 grams) cream cheese, room temperature
1/4 cup (56 grams) unsalted butter, room temperature
2 tablespoons pure maple syrup (preferably Grade A Dark Amber)
3 - 3 1/2 cups (345-410 grams) confectioners' (powdered or icing) sugar, sifted
For Garnish:
1/2 cup (50 grams) toasted and chopped walnuts or pecans