Quiche Recipe
Quiche Recipe: Preheat oven to 375 degrees F (190 degrees C) and place rack in center of oven. Have ready a prebaked 9 inch (23 cm) pie (or tart) crust.
To steam the fresh spinach. You will need a large pot and a steamer (or heatproof strainer). Place just enough water in the pot so it comes to the bottom of the steamer. Bring the water to a boil then place the spinach in the steamer, cover the pot, and 'steam' the spinach just until it is wilted (about 3-4 minutes) (toss the spinach periodically). Then remove the steamer from the pot, drain the spinach, rinse with cold water, gently squeeze the spinach to remove excess water, and coarsely chop.
In a large skillet, over medium-high heat, fry the bacon until crisp. Remove from heat and place the bacon on a plate that is lined with paper towel (to absorb the fat). Then cut the bacon into bite-sized pieces.
In a saucepan, with about 1 tablespoon of bacon fat or oil, saute the diced shallots until soft. Season with salt and pepper. Remove from heat and add the chopped spinach and bacon. Spread the mixture evenly on the bottom of the prebaked pie crust. Sprinkle with the parmesan cheese.
In a large bowl whisk together the eggs, cream, and milk. Season with salt and pepper and cayenne pepper (if using). Pour over the spinach and bacon mixture and bake in the preheated oven for about 20-25 minutes or until nicely browned, the custard is set, and a knife inserted one inch (2.5 cm) from the edge of the crust comes out clean. Remove from oven, place on a wire rack, and let cool about 15 minutes before serving.
Makes 4 to 6 servings.

Scan for Demonstration Video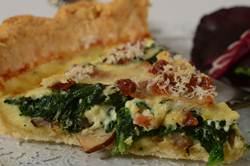 Quiche Recipe:
1 - 9 inch (23 cm) prebaked pie crust
Filling:
7 ounces (200 grams) ready-to-use fresh spinach, washed (or 1 cup (240 ml) frozen spinach, thawed and squeezed dry)
4 strips of bacon or turkey bacon
1/4 cup (60 ml) diced shallots (or 1/4 cup (60 ml) diced onion plus 1 small garlic clove, minced)
1/2 cup (120 ml) grated Parmesan cheese (or Gruyere or Pecorino Romano)
2 large eggs plus 1 large egg yolk
1/2 cup (120 ml) heavy "whipping" cream, at room temperature (cream with a 35-40% butterfat content)
2/3 cup (160 ml) milk, at room temperature (full or reduced fat)
salt and pepper to taste
1/8 teaspoon cayenne pepper, or to taste