Strawberry Sherbet Recipe
Strawberry Sherbet: Preheat your oven to 300 degrees F (150 degrees C).
Wash and cut the strawberries in half (or quarters if using large strawberries) and toss with the corn syrup. Place on a baking sheet and bake in preheated oven, stirring occasionally, until the color of the strawberries intensifies and the syrup is thick, about 45 - 60 minutes. Remove from oven, let cool, then place in your food processor. Add the sugar, lime or lemon juice and Limoncello (if using), and process until smooth. Transfer to a large bowl and stir in the yogurt and cream. Cover and place in the refrigerator until chilled (several hours or overnight).
Transfer the mixture to the chilled container of your ice cream machine and process according to the manufacturer's instructions. Once made, transfer the sherbet to a chilled container and place in the freezer for a couple of hours before serving. For longer storage you may have to transfer the sherbet to the refrigerator for about 20 -30 minutes before serving to soften.
Serves 4.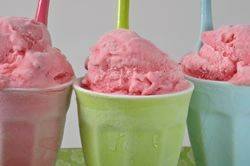 Strawberry Sherbet:
1 pound (454 grams) fresh strawberries
1/4 cup (60 ml) light corn syrup
1/4 cup (50 grams) granulated white sugar, or to taste
1 tablespoon fresh lime or lemon juice
1 tablespoon Limoncello (optional)
1/4 cup (60 ml) plain yogurt, sour cream, or creme fraiche
3/4 cup (180 ml) heavy whipping cream
Note: Heavy Cream or Heavy "Whipping" Cream has a 36 - 40% butterfat content.