Apple Tart Recipe
Apple Tart: Preheat your oven to 450 degrees F (230 degrees C) and place the oven rack in the center of the oven. Butter, or spray with a non stick spray, a 9 inch (23 cm) spring form pan.
Crust: In the bowl of your food processor, place the flour, salt, and sugar and pulse to mix together. Add the butter and pulse until dough just begins to form clumps. Pat the dough onto the bottom and 1 inch (2.5 cm) up the sides of the pan. Cover with plastic wrap and place in the refrigerator while you make the filling.
Filling: In a food processor process the cream cheese until smooth. Add the sugar and mix well. Blend in the egg and vanilla extract and process until smooth. Remove the crust from the fridge and pour in the filling, smoothing the top with the back of a spoon or offset spatula. Return to refrigerator while you prepare the topping.
Topping: Combine the sugar and cinnamon in a large bowl. Toss the apples in the sugar mixture. Place the apples evenly over the cream cheese layer. Place the spring form pan on a larger baking sheet to catch any drips.
Bake at 450 degrees F (230 degrees C) for 10 minutes. Remove from oven and sprinkle the apples with the almonds. Return to oven. Reduce oven temperature to 400 degrees F (200 degrees C) and bake for another 25 to 30 minutes or until the crust is golden brown, the apples are tender when pierced with a sharp knife, and when you gently shake the pan, the filling is set. Remove from oven and place on wire rack to cool. Sprinkle with confectioners sugar and serve warm or at room temperature. Leftovers can be covered and refrigerated.
Serves about 10 people.

Scan for Demonstration Video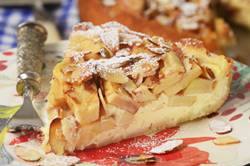 Shortbread Crust:
1 cup (130 grams) all-purpose flour
1/4 teaspoon (1 gram) kosher salt
1/3 cup (40 grams) confectioners sugar (powdered or icing)
1/2 cup (113 grams) cold unsalted butter, cut into small pieces
Cream Cheese Filling:
8 ounces (227 grams) regular (full fat) cream cheese, at room temperature
1/4 cup (50 grams) granulated white sugar
1 large (50 grams) egg, at room temperature
1/2 teaspoon (2 grams) pure vanilla extract
Apple Topping:
1/4 cup (50 grams) granulated white sugar
1/2 teaspoon ground cinnamon
4 cups of sliced apples (peel and core apples and cut into 1/4 inch (6 mm) thick slices) (you will need 800 grams (1.75 pounds) of apples (about 3 large))
1/2 cup (50 grams) sliced or slivered almonds