Banana Cream Pie Recipe
Shortbread Crust: Butter or lightly spray with a nonstick cooking spray, an 8-9 inch (20-23 cm) tart pan with a removable bottom. In your food processor, place the flour, sugar, and salt and process to combine. Add the butter and pulse until the pastry starts to come together and form clumps. Place the pastry in the prepared pan and evenly press the pastry onto the bottom and up the sides of the pan. (Can use the back of a spoon to smooth the surface of the pastry.) Pierce the bottom of the crust with the tines of a fork. (This will prevent the pastry crust from puffing up while it bakes.) Cover and place in the freezer for 15 minutes to chill. (This will help prevent the crust from shrinking while it bakes.)Preheat oven to 425 degrees F (220 degrees C). Place tart pan on a larger baking sheet and bake until the crust is golden brown, about 13-15 minutes. Remove from oven and place on a wire rack to cool. Can be covered and stored for a few days.
Pastry Cream: In a medium-sized heatproof bowl, mix the sugar and egg yolks together. Whisk the flour and cornstarch (corn flour) together and then add to the egg mixture, mixing until you get a smooth paste. Meanwhile, in a saucepan bring the milk and vanilla bean just to boiling (just until milk starts to foam up.) Remove from heat and add slowly to egg mixture, whisking constantly to prevent curdling. (If you get a few pieces of egg (curdling) in the mixture, pour through a strainer.) Remove vanilla bean, scrape out seeds, and add the seeds to the egg mixture. (The vanilla bean can be washed and dried and placed in your sugar bowl to give the sugar a vanilla flavor.) Then pour the egg mixture into a medium saucepan and cook over medium heat until boiling, whisking constantly. When it boils, whisk mixture constantly for another 30 - 60 seconds until it just becomes thick. Remove from heat and immediately whisk in the rum (if using). (Stir in vanilla extract if using instead of a vanilla bean.) Pour into a clean bowl and immediately cover the surface with plastic wrap to prevent a crust from forming. Cool to room temperature before using. If not using right away refrigerate until needed, up to 3 days. Whisk or stir before using to get rid of any lumps that may have formed.
Whipped Cream: Put your mixing bowl and whisk in the freezer for about 15 minutes. Then beat the whipping cream, powdered sugar, and vanilla extract just until stiff peaks form.
To Assemble: Spread pastry cream evenly over cooled crust.

Top with sliced bananas. Spread the whipped cream over the bananas. Can store in refrigerator for a few hours. Scan for Demonstration Video: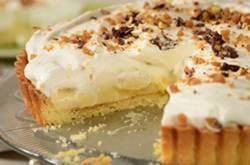 Shortbread Crust:
1 cup (130 grams) all purpose flour
1/3 cup (35 grams) confectioners (powdered or icing) sugar
1/8 teaspoon salt
1/2 cup (113 grams) cold unsalted butter, cut into pieces
Pastry Cream:
1 1/4 cups (300 ml) milk (whole or 2%)
1/2 vanilla bean, split or 1 teaspoon pure vanilla extract
3 large egg yolks
1/4 cup (50 grams) granulated white sugar
2 tablespoons (20 grams) all-purpose flour
2 tablespoons (20 grams) cornstarch
1 tablespoon rum (optional)
2-3 large bananas, peeled and sliced
Whipped Cream:
1 cup (240 ml) cold heavy whipping cream
2 tablespoons confectioners sugar
1/4 teaspoon pure vanilla extract