Black Forest Cake Recipe
Cherries: Drain the cherries, reserving the liquid. Place the cherries in a bowl and toss with 2 tablespoons Kirsch. Cover the bowl with plastic wrap and set aside. Place 1 cup (240 ml) of the reserved cherry syrup in a small saucepan, along with the sugar, and heat until sugar has dissolved. Remove from heat, add 2 tablespoons Kirsch, and let cool.
Chocolate Genoise: Preheat oven to 350 degrees F (180 degrees C). Butter, or spray with a non stick spray, a 9 inch (23 cm) round cake pan and line the bottom of pan with parchment or wax paper. In a bowl, sift the flour, salt and cocoa powder. In a heatproof bowl whisk the eggs with the sugar. Place over a saucepan of simmering water, and whisking constantly, heat until lukewarm (about 5 minutes). Remove from heat and transfer to the bowl of your electric mixer. Beat on high speed until the mixture is thick (about 5 minutes) (the batter will fall back into the bowl in a ribbon-like pattern). Beat in the vanilla extract. Then sift about one-third of the flour mixture over the egg mixture and gently fold in using a rubber spatula or whisk. Sift and fold in another third, and then fold in the rest. Take 1 cup of the batter and fold it into the melted butter (to lighten it). Then gently fold it into the egg batter. Pour into your pan, smoothing the top. Bake for about 20-25 minutes or until a toothpick inserted into the center comes out clean (cake starts to shrink from sides of pan). Cool on a metal rack before removing from pan. The cake can be stored for two days or frozen for a month.
Whipped Cream Frosting: In your mixing bowl place the whipping cream, vanilla extract, and sugar and stir to combine. Cover and chill the bowl and wire whisk in the refrigerator for at least 30 minutes, then beat the mixture just until stiff peaks form.
Assemble Cake: Using a sharp knife, cut the genoise, horizontally, into two layers. Turn over the top layer of the cake (top of cake becomes bottom) and place on your serving plate. Brush the cake layer with 1/4 cup (60 ml) cherry syrup. Take 1 cup of whipped cream and spread on the moistened genoise. Place the cherries evenly over the cream. Brush the cut-side of second genoise layer with 1/4 cup (60 ml) syrup. Place cut-side down on top of the cherries, gently pressing to compact. Reserve one cup (240 ml) of whipped cream and spread the remaining cream over top and sides of cake. Place reserved cream in a pastry bag fitted with a large star tip and pipe rosettes on top of cake. Cover and refrigerate the cake for several hours (or overnight) before serving. Decorate with fresh cherries and shaved chocolate. Serves 10-12.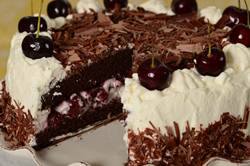 Cherries:
24 ounce (700 ml) jar of Morello Cherries in syrup
4 tablespoons Kirsch or Cherry Brandy
1/4 cup (50 grams) granulated white sugar
Chocolate Genoise

:

3 tablespoons (42 grams) hot melted unsalted butter

1/2 cup (60 grams) cake flour

1/4 teaspoon salt

1/3 cup (30 grams) unsweetened regular or Dutch-processed cocoa powder

4 large eggs

2/3 cup (135 grams) granulated white sugar

1 teaspoon pure vanilla extract

Whipped Cream Frosting:

2 1/2 cups (600 ml) heavy whipping cream (double cream) (35% butterfat)

1 teaspoon pure vanilla extract

3 tablespoons (35 grams) granulated white sugar

Scan for Demonstration Video: