Blueberry Trifle Recipe
Blueberry Sauce: Place the sugar, cornstarch, salt, and water in a medium sized saucepan and stir until smooth. Gently stir in the blueberries and place the saucepan over medium heat. Bring just to a boil and then simmer the sauce until the liquid thickens and becomes clear, stirring occasionally (about 10 minutes). (Some of the blueberries will break down but others will remain whole.) (The longer you cook the sauce the thicker it will become.)
Remove from heat and stir in the lemon zest, lemon juice, and lemon liqueur. Let cool completely before using. The blueberry sauce can be made up to a week ahead. Just cover and refrigerate.
Cake: You will need 12 thin slices of cake. To determine the diameter of your cake slices, first measure the diameter of six small glasses and then use a cookie cutter to cut your cake rounds.
Whipped Cream: Place the cream, mascarpone, sugar, and vanilla extract in a large bowl. Using a wire whisk, whip until soft peaks form.
To Assemble the Trifles: Place one slice of cake in the bottom of each glass. Spoon about 2 tablespoons of Blueberry Sauce on top of each round of cake. Cover the sauce with a few fresh blueberries. Place a large dollop of the whipped cream on top of the berries. Repeat the layers, starting with the cake. Cover and refrigerate for 4 to 24 hours to allow the flavors to mingle.
If desired, just before serving sprinkle each trifle with crushed Gingersnap Cookies.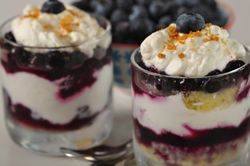 Blueberry Sauce:
1/3 cup (65 grams) granulated white sugar
1 1/2 teaspoons (5 grams) cornstarch
1/8 teaspoon salt
1/3 cup (80 grams) water
1 pint (2 cups) (315 grams) fresh blueberries (can also use frozen blueberries)
1/2 teaspoon (1 gram) freshly grated lemon zest (outer yellow skin)
1/2 tablespoon (8 grams) freshly squeezed lemon juice, or to taste
2 tablespoons (30 grams) lemon liqueur (optional)
12 thin slices of cake (you can use a white or yellow butter cake, pound cake, sponge cake or even ladyfingers)
Whipped Cream:
1 cup (240 grams) cold heavy whipping cream (contains 35-40% butterfat)
1/2 cup (115 grams) Mascarpone Cheese (can also use cream cheese)
2 tablespoons (25 grams) granulated white sugar, or to taste
1 teaspoon (4 grams) pure vanilla extract
1 cup (150 grams) fresh blueberries
Crushed Gingersnap cookies (home made or store bought)