Bran Muffins: Place the wheat bran in a bowl and stir in the boiling water. Set aside.
In the bowl of your electric stand mixer, fitted with the paddle attachment (or with a hand mixer), beat the butter until smooth. Add the brown sugar and beat until light and fluffy (about 2 minutes). Beat in the eggs, one at a time, beating well after each addition. Scrape down the sides and bottom of your bowl as needed. Add the vanilla and molasses and beat until well blended. Add the wheat bran and beat until combined.
In a large bowl, whisk together the flours, oats, cinnamon, orange zest, salt, baking soda, and baking powder. Stir in the raisins, if using.
Add the flour mixture in three additions, alternately with the wet ingredients (milk and buttermilk), in two additions, to the batter, beginning and ending with the flour mixture. Cover and place the batter in the refrigerator until well chilled (several hours or up to about five days).
When ready to bake the muffins, Preheat your oven to 375 degrees F (190 degrees C) and place the oven rack in the center of the oven. Line a 12 cup muffin pan with paper liners or else butter or spray the muffin cups with a nonstick vegetable spray.
Fill the muffin cups, using two spoons or an ice cream scoop, about 3/4 full (85 grams) and bake about 17 - 18 minutes or until a toothpick inserted into the center of a muffin comes out clean. Remove from oven and place on a wire rack to cool slightly before serving.
Makes about 16 standard-sized muffins.

Scan for Demonstration Video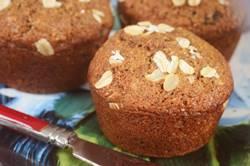 Bran Muffins:
1 1/2 cups (80 grams) unprocessed wheat bran
1/2 cup (120 ml/grams) boiling water
1/2 cup (113 grams) unsalted butter, at room temperature
1 cup (200 grams) light brown sugar (firmly packed)
2 large (100 grams) eggs, at room temperature
2 tablespoons (40 grams) unsulphured molasses
1 teaspoon (4 grams) pure vanilla extract
1 cup (130 grams) all-purpose flour
1 cup (130 grams) whole wheat flour
2/3 cup (60 grams) old-fashioned rolled oats
1 teaspoon (1 gram) ground cinnamon
1 tablespoon (5 grams) freshly grated orange zest (one large orange)
1/2 teaspoon (2 grams) salt
2 teaspoons (8 grams) baking soda
1 teaspoon (4 grams) baking powder
3/4 cup (100 grams) dark raisins (optional)
3/4 cup (180 ml/grams) milk, at room temperature
3/4 cup (180 ml) buttermilk, at room temperature