Bread Pudding Recipe
Bread Pudding: Preheat oven to 300 degrees F (150 degrees C) and place rack in center of oven. Lightly grease with butter, or spray with a non stick vegetable spray, a 9 x 13 x 2 inch (23 x 33 x 5 cm) heatproof baking dish. Place the baking dish into a larger roasting pan that has enough room around its sides to fill with water.
Place the bread cubes and fruit (if using) in the baking dish.
Custard: In an electric mixer (or with a hand mixer), beat the eggs and sugar on high speed until thick and lemon colored (about 4-5 minutes) (when beater is raised the batter will fall back into bowl in a slow ribbon). Beat in the vanilla extract and ground cinnamon. Then beat in the melted and cooled butter and cream and/or milk.
Assemble: Carefully pour (or ladle) the prepared custard over the bread cubes until completely covered. Press down the bread cubes so they are covered with the custard.
Prepare a water bath. (A water bath is used to provide temperature protection for the egg custard.) Carefully pour in enough hot water so that the water is halfway up sides of the 9 x 13 inch baking pan. Bake about 1 hour or until toothpick inserted in the center comes out clean. Another way to judge whether the pudding is fully baked, is to gently press down on the center of the pudding. If any custard comes up to the top, the pudding needs to be baked a little longer. Remove the bread pudding from the water bath and cool slightly before serving.
Can be served warm or cold with a dusting of confectioners' sugar and a dollop of softly whipped cream or vanilla ice cream.
Serves about 8 - 10 people

Scan for Demonstration Video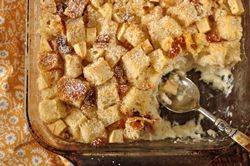 Bread Pudding:
8 cups (2 L) bread cubes, cut into bite sized pieces (good choices are French, Broiche, Challah, Croissant, Italian, and/or Panettone. The bread can be fresh or stale and crusts can be left on or removed.)
Fruit: (Optional)
1/2 large peeled and cored apple, diced
1/2 cup (120 ml) sultanas (raisins)
Custard:
4 large eggs
1 cup (200 grams) granulated white sugar
1 1/2 teaspoons pure vanilla extract
1/2 teaspoon ground cinnamon (optional)
4 tablespoons (57 grams) unsalted butter, melted and cooled
4 cups (960 ml) of heavy cream, light cream, half & half, milk, or a combination thereof