Carrot Cupcakes: Preheat oven to 350 degrees F (180 degrees C) and place rack in center of oven. Lightly butter (or spray with a non stick vegetable spray) or line 12 muffin cups with paper liners.
In a large bowl whisk together the flour, baking soda, salt, and ground cinnamon. Fold in the chopped walnuts.
In another large bowl whisk the eggs until lightly beaten. Then whisk in the sugar, oil, and vanilla extract until slightly thickened. Fold in the applesauce and grated carrots. Then fold this mixture into the flour mixture until incorporated. Evenly fill the 12 muffin cups with the batter and bake about 20 - 23 minutes or until a toothpick inserted into the center of a cupcake comes out clean. Remove from the oven, place on a wire rack, and let cool completely before frosting.
Frosting: In the bowl of your electric, or with a hand mixer, beat the butter and cream cheese until very smooth and creamy. Add the powdered sugar and beat until fully incorporated and smooth. Beat in the vanilla extract. Add more confectioners sugar if needed. Pipe the frosting on the top of each cupcake. Serve immediately or cover and refrigerate the cupcakes until serving time. Can be stored in the refrigerator for several days.
Makes 12 cupcakes.

Scan for Demonstration Video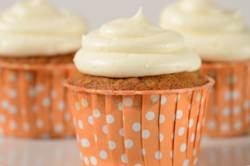 Carrot Cupcakes:
1 1/3 cups (175 grams) all-purpose flour
1 teaspoon baking soda
1/4 teaspoon salt
1 teaspoon ground cinnamon
1/2 cup (120 ml) walnuts, chopped
2 large eggs
2/3 cup (135 grams) granulated white sugar
2/3 cup (160 ml) safflower, vegetable, corn, or canola oil
1/2 teaspoon pure vanilla extract
2/3 cup (160 ml) unsweetened applesauce (or grated apple or crushed pineapple)
1 1/3 cups (320 ml) finely grated raw carrots (about 1/2 lb. (225 grams) carrots)
Cream Cheese Frosting:
1/4 cup (55 grams) butter, room temp.
4 ounces (115 grams) cream cheese, room temperature
2 1/4 cups (250 grams) confectioners' (powdered or icing) sugar, sifted
1/2 teaspoon pure vanilla extract