Cherry Clafoutis: Preheat the oven to 425 degrees F (220 degrees C) and place the rack in the center of the oven. Wash the cherries, remove the stems and pits.
In your food processor or blender (or you can do it by hand with a wire whisk) place the flour, salt, eggs, sugar, milk, butter, and vanilla extract. Process for about 60 seconds, scraping down the sides of the bowl as needed. Once the batter is completely smooth, let it rest while you prepare the fruit.
In a 9- inch (23 cm) heavy ovenproof skillet (preferably non stick), melt the butter over medium heat making sure the melted butter coats the bottom and sides of the pan. When the butter is bubbling, add the pitted cherries, and cook until the cherries have softened a bit and are coated with butter (about 2 minutes). Then sprinkle the cherries with the sugar and cook until the sugar has dissolved and turns into a syrup (1 - 2 minutes). Pour the batter over the cherries and bake for about 18-20 minutes or until the clafoutis is puffed, set, and golden brown around the edges. Do not open the oven door until the end of the baking time or it may collapse. Serve immediately with a dusting of confectioners sugar and yogurt, creme fraiche, vanilla ice cream, or softly whipped cream.
Serves about 4 people as a breakfast/brunch dish.

Scan for Demonstration Video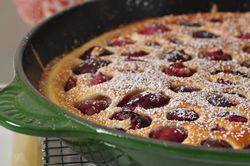 Cherry Clafoutis:
1/2 cup (65 grams) all purpose flour
1/4 teaspoon salt
2 large eggs
2 tablespoons (25 grams) granulated white sugar
3/4 cup (180 ml) milk (whole (full fat) or reduced fat)
1 tablespoon (13 grams) melted butter
1/2 teaspoon pure vanilla extract
Cherries:
3/4 pound (350 grams) fresh sweet cherries, pitted
1 tablespoon (13 grams) unsalted butter
1 tablespoon granulated white sugar