Cherry Ricotta Muffins Recipe
Preheat oven to 350 degrees F (177 degrees C). Place rack in the middle of the oven. Line 12 muffin pans with paper liners or spray with a non stick vegetable spray.
In a medium sized bowl, whisk the ricotta cheese and then add the eggs, one at a time, beating well after each addition. Add the buttermilk, vanilla extract, lemon juice, and cooled melted butter, mixing well. Set aside.
In another large mixing bowl, whisk together the flour, sugar, baking powder, baking soda, salt, and lemon zest. Add the ricotta mixture to the flour mixture. Stir just until combined and then fold in the chopped cherries. Do not over mix this mixture or the muffins will be tough when baked.
Divide the batter amongst the 12 muffin cups using two spoons or an ice cream scoop.
Place in the oven and bake about 20 minutes or until lightly browned and a toothpick inserted in the center of a muffin comes out clean. (The baking time will be a little longer is using frozen cherries.) Remove from oven and place on a wire rack to cool.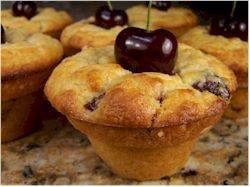 Cherry Ricotta Muffins:
1 cup ricotta cheese
2 large eggs
1 cup (240 ml) buttermilk
1 tablespoon pure vanilla extract
1 tablespoon fresh lemon juice
4 tablespoons (57 grams) unsalted butter, melted and cooled
2 cups (260 grams) all-purpose flour
3/4 cup (150 grams) granulated white sugar
1 1/2 teaspoons baking powder
1/8 teaspoon baking soda
1/2 teaspoon salt
1 tablespoon grated lemon zest
1 1/2 cup cherries (fresh or frozen), pitted and sliced (If you frozen cherries do not defrost before using). When fresh cherries are out of season use dried cherries.
Lemon Zest - The yellow outer rind of the lemon.