Chocolate Torte Recipe
Preheat oven to 350 degrees F (177 degrees C) with rack in the center of oven Butter a 9 x 3 inch (23 x 8 cm) springform pan, or spray with nonstick cooking spray. Line bottom of pan with parchment paper.
Separate the cold eggs, placing the whites and yolks in separate bowls. Cover both with plastic wrap and bring to room temperature (about 30 mins.). Meanwhile, melt the butter and chocolate in a heatproof bowl placed over a saucepan of simmering water. Place egg yolks and 1/2 cup sugar in the bowl of your electric mixer (or use a hand mixer). Beat on medium high speed until thick and lemon-colored, about 3-5 minutes. (Eggs should have tripled in volume, be thick and soft, and when you lift the beater the mixture falls back into the bowl in a slow ribbon.) Beat in the vanilla extract and melted chocolate mixture. In a clean bowl, with the whisk attachment, beat the egg whites until foamy. Add the cream of tartar and continue beating until soft peaks form. Gradually add the remaining 1/2 cup sugar and beat until stiff peaks form. Using a rubber spatula or whisk, fold a small amount of whites into the egg yolk mixture to lighten the batter. Add the remaining egg whites, folding just until incorporated. Do not over mix or batter will deflate. Pour into the pan, smoothing top. Bake for about 50-60 minutes or until a toothpick inserted in the center comes out with a few moist crumbs. (During baking the surface of cake will form a crust which will collapse as it cools.) Remove from oven and place on a wire rack to cool. If covering with ganache, cover with plastic wrap and chill in the fridge for a few hours.
Ganache: Place the chocolate in a heatproof bowl. Put the cream and butter in a small saucepan, and bring just to a boil, over medium heat. Pour the cream over the chocolate and allow to stand for 5 minutes, then stir until smooth. If desired, add the liqueur. Remove torte from fridge and brush loose crumbs from cake. Place on a wire rack, top of the cake facing down. Put the wire rack on a baking sheet. Pour the ganache into the center of the cake. Spread with a spatula, using big strokes to push the ganache over the sides of the cake, to create an even coat. Cover any bare spots with ganache. Srain leftover ganache and beat until light and fluffy. Put in a piping bag, with a star tip, and pipe rosettes on top of the cake. I find this cake is best served the next day as it allows the flavors to blend. Cut in small slices with a sharp knife, wiping off the knife after slicing.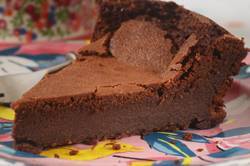 Chocolate Torte:
6 large eggs, separated
1 cup (226 grams) unsalted butter, cut into small pieces
9 ounces (255 grams) semisweet or bittersweet chocolate, chopped
1 cup (200 grams) granulated white sugar, divided
1 teaspoon pure vanilla extract
1/4 teaspoon cream of tartar
Ganache: (Optional)
8 ounces (227 grams) semisweet or bittersweet chocolate, chopped
3/4 cup (180 ml) heavy whipping cream
2 tablespoons (28 grams) unsalted butter
1 tablespoon or brandy (optional)

Scan for Demonstration Video: