Chocolate Bark Recipe
Chocolate Bark: Line a baking sheet with parchment paper.
Melt about 11 ounces (300 grams) of the chocolate in a clean and dry heatproof bowl placed over a saucepan of barely simmering water. Stir frequently so the chocolate will melt slowly and evenly, and then remove from heat. Wipe the bottom and sides of the bowl to remove any moisture.
Stir into the melted chocolate the remaining 5 ounces (155 grams) of finely chopped chocolate (in three batches). Make sure that each batch of chocolate is thoroughly melted before adding the next batch. Use a rubber spatula and be patient as this will take a little time. As the chocolate cools it will start to thicken and lighten in color. Test the chocolate to see that it has reached the proper temperature by either measuring with a chocolate thermometer 88 - 91 degrees F (31 - 33 degrees C) or you can place a small dab of melted chocolate on your lower lip and it should feel about body temperature (not too warm or too cool). If the melted chocolate is too warm, add a little more finely chopped chocolate. If the melted chocolate is too cool, warm for just a few seconds in a heatproof bowl placed over a saucepan of barely simmering water. It is now ready to use. Spread the melted chocolate into a 10 - 12 inch (25-30 cm) circle on the parchment lined baking sheet. Sprinkle top with the dried fruits and nuts and gently press into the chocolate. Set aside to firm at room temperature for a few hours or refrigerate for about 30 minutes.
Cut or break the bark into small irregular pieces. Store in an airtight container at room temperature or in the refrigerator for up to two weeks.
Makes about 20 pieces.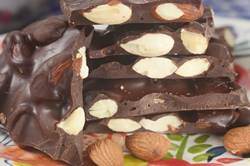 Chocolate Bark:
16 ounces (454 grams) semi sweet or bittersweet chocolate, finely chopped
1/4 - 1/2 cup (60 - 120 ml) dried cranberries or cherries
1/4 - 1/2 cup (60 - 120 ml) dried papaya or apricots, diced
1/2 cup (120 ml) shelled salted or unsalted pistachios, coarsely chopped
Note: Can use other types of dried fruits and nuts if you like.