Chocolate Marshmallow Fudge Recipe
To Toast Nuts: Preheat oven to 350 degrees F (180 degrees C). Place the pecans or walnuts on a baking sheet and toast the nuts for about 8-10 minutes, or until lightly brown and fragrant. Cool and then coarsely chop.
Chocolate Marshmallow Fudge: Line the bottom and sides of a 9 inch (23 cm) square pan with aluminum foil.
Pour the evaporated milk, butter, sugar, salt, and marshmallow cream into a heavy bottomed 2 1/2 - 3 quart saucepan. Place over medium to medium low heat and, with a wooden spoon or heatproof spatula, stir the mixture constantly (to prevent burning) until it comes to a boil. Adjust the heat and let this mixture boil for 5 minutes, stirring constantly. During this time the mixture will caramelize slightly and if you test the mixture after 5 minutes with a candy thermometer it will read about 230 degrees F (110 degrees C).
Remove the saucepan from the heat and immediately add the coarsely chopped chocolate (or chocolate chips), stirring until the chocolate has melted and the mixture is smooth (can use a wooden spoon or a wire whisk). Stir in the toasted nuts and vanilla extract. Immediately pour the fudge into the prepared pan and smooth the top. Let stand at room temperature until cool (about 1-2 hours). Then carefully remove the fudge from the pan by lifting the edges of the foil. With a long, sharp knife cut the fudge into one inch (2.5 cm) pieces. Well wrapped, the fudge can be stored in the refrigerator for several days, or it can be frozen for several months.
Makes about 81 - one inch (2.5 cm) pieces of fudge.

Scan for Demonstration Video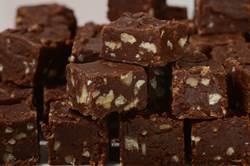 Chocolate Marshmallow Fudge:
1 1/2 cups (150 grams) pecans or walnuts (can also use almonds, pistachios, or hazelnuts or a mix of nuts)
2 cups (400 grams) granulated white sugar
4 tablespoons (55 grams) unsalted butter, diced
1/4 teaspoon salt
1 - 5 ounce can (2/3 cup) (160 ml) evaporated milk
1 - 7-ounce jar (198 grams) marshmallow cream
12 ounces (340 grams) semi sweet chocolate, coarsely chopped or 2 cups semi sweet chocolate chips
1 1/2 teaspoon pure vanilla extract