Cinnamon Rolls Recipe
Cinnamon Rolls: In the bowl of your electric stand mixer, fitted with the paddle attachment (can use an electric hand mixer), combine 2 1/4 cups (295 grams) flour with the dried milk powder (if using) and the yeast.
In a small saucepan, stirring constantly, heat the milk, butter, sugar, and salt just till warm (about 120 degrees F) (49 degrees C) and the butter is almost melted. With the mixer on low speed, gradually pour the milk mixture into the flour mixture, and beat until combined. On low speed, add eggs, one at a time, beating well after each addition. Scrape down the sides and bottom of the bowl as needed. Then beat this mixture on high speed for 3 minutes. Replace the paddle attachment with the dough hook (or knead by hand), and knead in the remaining 2 1/4 cups (295 grams) flour until you have a soft dough that is smooth and elastic, but not sticky (5 minutes). Add a little more flour if necessary. Shape the dough into a ball and place in a greased bowl, turning once. Cover with plastic wrap and let rise in a warm place (73 - 75 degrees C) (23 - 24 degrees C) until soft and puffy and almost double in size (approximately 1 1/2 hours). Then gently punch the dough to release the air and let rest for 10 minutes.
Meanwhile, make the filling. In a bowl stir together the brown sugar, flour, and cinnamon. Cut in the cold butter with a pastry blender, or two knives, until the mixture is crumbly.
On a lightly floured surface, roll the dough into a 12 inch (30 cm) square. Lightly brush the surface of the dough with cream or water. Sprinkle the filling evenly over the rolled out dough and top with raisins and/or nuts (if desired). Gently press the sugar mixture into the dough. Lightly brush one end of the dough with a little half-and-half or light cream (to seal the edges of the rolls). Roll the dough to form a log, starting at the end opposite the edge you brushed with cream. (Do not roll the dough too tightly or the centers of the rolls will pop up during baking.) Slice the log into eight equal-sized pieces. Arrange rolls in a greased 13 x 9 x 2 inch (33 x 23 x 5 cm) baking pan. Cover rolls loosely with lightly greased plastic wrap, leaving room for rolls to rise, at room temperature (73 - 75 degrees C) (23 - 24 degrees C), until almost doubled (about one hour). (Or, at this point you can refrigerate the Cinnamon Rolls overnight.) Next morning, remove the rolls from the refrigerator, and let stand at room temperature for about 30 minutes before baking.)
Meanwhile preheat your oven to 375 degrees F (190 degrees C) oven.
When the Cinnamon Buns are proofed, lightly brush rolls with half-and-half or light cream. Bake for about 20 to 25 minutes or till browned, and a toothpick inserted into one of the buns, comes out clean. Also, if you lightly tap on the top of the buns they should sound hollow. The internal temperature of the Cinnamon Rolls should be 188 degrees F (87 C). Remove rolls from oven. Brush again with half-and-half or light cream. Remove the Cinnamon Rolls from the pan by inverting onto a wire rack. Let cool. Re-invert so the tops of the Cinnamon Rolls are facing up.
Glaze: In a small bowl, combine the powdered sugar and enough cream to make a pourable glaze. With a spoon, drizzle the glaze on the tops of the Cinnamon Rolls.
Serve warm or at room temperature.
Makes 8 rolls.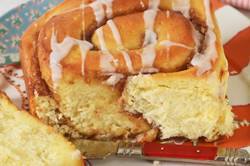 Cinnamon Rolls:
4 1/2 cups (590 grams) all-purpose flour, divided
3 tablespoons (21 grams) dried milk powder (optional)
1/4 ounce package (2 teaspoons) (7 grams) active dry yeast (can also use 2 teaspoons (6 grams) SAF Gold Instant Yeast)
1 cup (240 ml/grams) milk
1/3 cup (75 grams) unsalted butter, diced
1/3 cup (65 grams) granulated white sugar
1/2 teaspoon (2 grams) salt
3 large eggs (150 grams), at room temperature
Filling:
3/4 cup (155 grams) light brown sugar, firmly packed
1/4 cup (30 grams) all-purpose flour
1 tablespoon ground cinnamon
1/2 cup (113 grams) unsalted butter, cold (cut into pieces)
1/2 cup (50 grams) raisins or currants and/or chopped nuts (optional)
Half-and-half (or light cream)
Glaze: (Optional)
3/4 cup (90 grams) powdered (confectioners or icing) sugar
about 2 tablespoons half-and-half or light cream
1/2 cup (120 ml) raisins or currants (optional)
Half-and-half (light cream)
Powdered Sugar Glaze: Stir together: 1/2 cup (60 grams) powdered sugar with 1-2 tablespoons light cream. Make the glaze thin enough to drizzle over cinnamon rolls.

Scan for Demonstration Video: