Coca-Cola Cake: Preheat your oven to 350 degrees F (180 degrees C). Butter, or spray with a non stick vegetable spray, a 9 x 13 inch (23 x 33 cm) pan.
In a large bowl whisk together the flour, sugar, baking soda, and salt. Make a well in the center of the dry ingredients.
In another bowl, whisk together the eggs, buttermilk, and vanilla extract.
In a medium saucepan, placed over medium heat, melt the butter. Then whisk in the cocoa powder, oil, and Coca-Cola. Bring just to a boil then remove from heat. Let cool about five minutes then pour into the dry ingredients and whisk until combined. Then stir, or whisk, the egg mixture into the batter until combined. Pour the batter into the prepared pan and bake for about 28 - 30 minutes or until the top is firm and a toothpick inserted into the center of the cake just comes out clean (the cake will just be starting to pull away from the sides of the pan).
Remove from oven and place on a wire rack to cool while you make the frosting.
Chocolate Frosting: Place the confectioners sugar in a large bowl.
In a medium saucepan, placed over medium heat, melt the butter. Whisk in the cocoa powder and Coca-Cola (or milk) and bring just to a bowl. Remove from heat and, whisking constantly, slowly add it to the confectioners sugar, along with the vanilla extract, until smooth. Slowly pour the warm frosting over the warm chocolate cake. Sprinkle with the chopped pecans. Let cool. Can be covered and stored at room temperature, or in the refrigerator, for about five days.
Note: To toast pecans. Place pecans on a baking sheet and bake in a 350 degree F (180 degree C) oven for about 6 to 8 minutes or until lightly browned and fragrant. Let cool and then coarsely chop.
Serves about 18 people.

Scan for Demonstration Video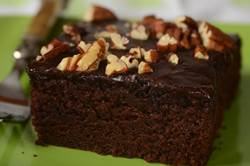 Coca-Cola Cake:
1 3/4 cups (230 grams) all-purpose flour
1 3/4 cups (350 grams) granulated white sugar
1 teaspoon (5 grams) baking soda
1/2 teaspoon (2 grams) salt
2 large eggs, at room temperature (110 grams)
1/2 cup (130 grams) buttermilk, at room temperature
1 1/2 teaspoons (6 grams) pure vanilla extract
1/2 cup (113 grams) unsalted butter, at room temperature
1/2 cup (50 grams) unsweetened natural cocoa powder
1/2 cup (120 grams) flavorless oil (corn, vegetable, safflower or canola oil)
1 cup (250 grams) Coca-Cola (Coke)
Chocolate Frosting:
3 cups (345 grams) confectioners (powdered or icing) sugar, sifted
1/2 cup (113 grams) unsalted butter, at room temperature
1/4 cup (25 grams) unsweetened cocoa powder (natural or Dutch-processed)
1/3 cup (80 grams) Coca-Cola (or milk)
1 1/2 teaspoons (6 grams) pure vanilla extract
3/4 cup (75 grams) toasted pecans, coarsely chopped