C
rêpes
Recipe: Place all the ingredients in your blender or food processor and process for about 15-30 seconds or until smooth. Or you can make the batter by hand. In a large bowl whisk the flour with the sugar and salt. In a separate bowl whisk the eggs and then stir in the milk, vanilla extract and melted butter. Make a well in the center of the dry ingredients and then gradually pour in the egg mixture, whisking until combined and smooth. Strain if necessary to remove any lumps. (The batter should have the consistency of light cream.) Cover and let sit at room temperature about 15-30 minutes. Or place in the refrigerator to chill for one hour, or up to two days. After chilling the batter, if it's become too thick, thin it out with a little milk or water.
When you're ready to make the Crêpes, heat a 9 inch (23 cm) non stick frying pan or crepe pan over medium heat until a few sprinkles of water dropped on the pan sizzle, just a little. Adjust the temperature as needed. Lightly butter the the pan. Lift the pan from the heat and, using a small ladle or scoop, pour about 3-4 tablespoons of the batter into the center of the hot pan. Tilt and swirl the pan so the batter forms an even layer (does not have to be a perfect circle). Cook until the edges of the Crêpes start to curl and the top looks almost dry (about 1-2 minutes). (The bottom of the Crêpe will have a golden brown lacy pattern.) Flip the Crêpe and continue to cook for about 15-30 seconds or until you have brown spots over the surface. Remove from heat and place on a plate or wire rack. Continue to cook and stack the Crêpes. If you want to keep the Crêpes warm, you can cover them with a clean cloth or a piece of aluminum foil. Or you can place them in a 150 degrees F (65 degrees C) oven. If not eaten right away the Crêpes can be stacked and wrapped in aluminum foil and plastic wrap and stored in the refrigerator for two days or they can be frozen for about one month. Reheat the Crêpes in the oven or in a hot skillet.
Makes about 10 to 12 - 9 inch (23 cm) Crêpes.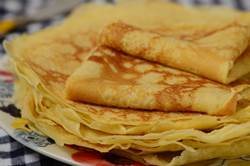 C

rêpes
Recipe:
1 cup (130 grams) all-purpose flour
1/8 teaspoon salt
2 tablespoons (25 grams) granulated white sugar
2 large eggs (room temperature)
1 1/4 cup (300 ml) milk (room temperature)
1 teaspoon pure vanilla extract (optional)
2 tablespoons (28 grams) melted butter, cooled to room temperature

Scan for Demonstration Video