Easy Vanilla Ice Cream: In a large measuring cup (or bowl) stir all the ingredients together, making sure that the sugar has completely dissolved.
Transfer the cold mixture to the chilled container of your ice cream machine and process according to the manufacturer's instructions. Once made, transfer the ice cream to a chilled container and place in the freezer for a few hours or until firm. If the ice cream becomes too hard, remove it from the freezer about 15 minutes before serving and place into the refrigerator to soften.
Makes about 3 cups.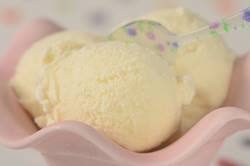 Easy Vanilla Ice Cream Recipe:
2 cups (480 ml) cold heavy "whipping" cream (cream with a 35-40% butterfat content)
1 cup (240 ml) cold whole (full fat) milk
3/4 cup (150 grams) superfine or granulated white sugar
1/4 teaspoon (1 gram) salt.
1 1/2 teaspoons (6 grams) pure vanilla extract or vanilla bean paste
2 tablespoons (12 grams) dry milk powder (optional)