Fruit Pizza Recipe
Fruit Pizza: Preheat oven to 350 degrees F (180 degrees C) and place rack in center of oven. Lightly butter, or spray with a non stick vegetable spary, a 12 inch (30 cm) pizza pan.
In a separate bowl whisk together the flour, salt, and baking powder.
In the bowl of your electric mixer (or with a hand mixer), beat the butter until creamy and smooth. Add the sugar and beat until light and fluffy (about 2 minutes). Next, add the egg and vanilla extract and beat until combined. Scrape down the sides of the bowl as needed. Finally, add the flour mixture and beat until you have a smooth dough. (If the dough is soft, cover and refrigerate for about 30 minutes.) Scatter small pieces of the dough over the surface of your pan and pat to form an even layer. Then prick the dough with the tines of a fork. Bake for about 18-20 minutes or until the edges are golden brown. Remove from oven and place on a wire rack to cool completely.
Cream Cheese Frosting: In the bowl of your electric mixer (or with a hand mixer or wire whisk) beat the cream cheese until smooth. Then add the rest of the ingredients and beat until its of spreading consistency. Spread the frosting over the cooled sugar cookie. Top with fresh fruit. Serve immediately or cover and place in the refrigerator.
Serves 10-12 people.

Scan for Demonstration Video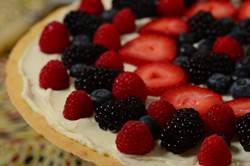 Fruit Pizza:
1 1/2 cups (195 grams) all purpose flour
1/4 teaspoon salt
1/2 teaspoon baking powder
1/2 cup (113 grams) unsalted butter, room temperature
1/2 cup (100 grams) granulated white sugar
1 large egg
1 teaspoon pure vanilla extract
Cream Cheese Frosting:
1/2 cup (4 ounces) (113 grams) full fat cream cheese
1/2 cup (120 ml) cold heavy whipping cream (cream with a 35-40% butterfat content)
2 tablespoons (25 grams) granulated white sugar, or to taste
1/2 teaspoon pure vanilla extract
Fresh Fruit