Gingersnap Cookies Recipe
Gingersnap Cookies: In the bowl of your electric mixer (or with a hand mixer), beat the butter and sugars until light and fluffy (about 2 - 3 minutes). Add the molasses, egg, and vanilla extract and beat until incorporated. In a separate bowl whisk together the flour, baking soda, salt, and spices. Add to the butter mixture and mix until well combined. Cover and chill the batter for about 30 - 60 minutes or until firm.
Preheat the oven to 350 degrees F (180 degrees C). Line two baking sheets with parchment paper.
Place about 1/2 cup (100 grams) granulated white sugar in a medium sized bowl. When the batter has chilled sufficiently, roll into 1 inch (2.5 cm) balls. Roll each ball of dough into the sugar, coating it thoroughly. Place on the baking sheet, spacing about 2 inches (5 cm) apart. Then, with the bottom of a glass, flatten the cookies slightly. For a cookie with crisp edges and a soft and chewy center, bake for about 12 minutes. (The longer the cookies bake, the more crisp they will be.) Cool on a wire rack. Can be stored in an airtight container, at room temperature, for about five days.
Makes about 40 cookies.

Scan of Demonstration Video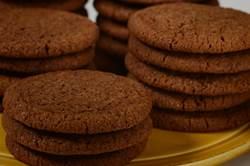 Gingersnap Cookies:
3/4 cup (170 grams) unsalted butter, room temperature
1/2 cup (105 grams) firmly packed dark brown sugar
1/2 cup (100 grams) white granulated sugar
1/4 cup (80 grams) unsulphured molasses
1 large egg
1/2 teaspoon pure vanilla extract
2 cups (260 grams) all purpose flour
1/2 teaspoon (3 grams) baking soda
1/4 teaspoon salt
1 1/2 teaspoons (3 grams) ground cinnamon
2 teaspoons (4 grams) ground ginger
1/2 teaspoon (1 gram) ground cloves
Garnish:
1/2 cup (100 grams) granulated white sugar