Granola Bars: Preheat oven to 350 degrees F (180 degrees C). Butter (or spray with a non stick cooking spray) a 9 inch square (23 cm) baking pan. Line the bottom of the pan with parchment paper.
In a small saucepan, melt the butter, honey, and golden syrup. Remove from heat and stir in the vanilla extract. Allow to cool to room temperature.
In a large bowl mix together the rolled oats, rice cereal, salt, dried cherries, and chocolate chips. With a large spoon or spatula, stir the butter mixture into the oat mixture, making sure all the dry ingredients are completely coated. Pour the granola into the prepared pan and, with damp hands, press the granola evenly into the pan.
Bake for about 22-25 minutes, or until the granola is golden brown and set. Remove from the oven and let cool for about 10-15 minutes before cutting into bars. Then continue to cool the granola bars for about two hours, or until set. (Note: The granola bars will be soft when they are removed from the oven but will firm up and become crisp as they cool.) Can be stored in the refrigerator or at room temperature for several days.
Makes about 12 - 4 1/2 x 1 1/2 inch (11.5 x 4 cm) granola bars

Scan for Demonstration Video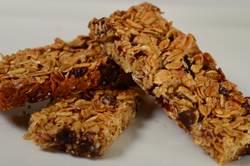 Granola Bars Recipe:
4 tablespoons (55 grams) butter, cut into pieces
1/3 cup (80 ml) honey
1/3 cup (80 ml) golden syrup
1 teaspoon pure vanilla extract
2 cups (190 grams) old fashioned rolled oats
1/2 cup (15 grams) rice cereal
1/4 teaspoon salt
1/4 cup (35 grams) dried cranberries or cherries
1/4 cup (40 grams) chocolate chips (semi sweet, bittersweet, milk, white, or peanut butter)