Granola: Preheat oven to 300 degrees F (175 degrees C) and place rack in center of oven. Either butter or line a baking sheet with parchment paper.
In a large bowl combine the rolled oats, coconut, nuts, ground cinnamon, and salt.
In a small bowl, stir together the melted butter (or oil), and maple syrup (or honey). Pour this mixture over the dry ingredients and toss together, making sure all the dry ingredients are coated with the liquids. Spread onto the prepared baking sheet and bake for about 25 - 30 minutes or until golden brown, stirring occasionally so the mixture browns evenly. (The browner the granola gets (without burning) the crunchier the granola will be.) Place on a wire rack to cool. You will notice that the granola may still be sticky when it is removed from the oven but it will become crisp and dry as it cools. Make sure to break up any large clumps of granola while the mixture is still warm. Once the granola has completely cooled, store in an airtight container or plastic bag in the refrigerator. It will keep for several weeks.
Makes about 4 cups of Granola.
For the Granola Trifles: For each individual trifle; place some granola in the bottom of your glass or bowl, followed by a spoonful of yogurt, then some fruit, and, if you have room, repeat the layers. Use as much or little, as you like, of each ingredient.

Scan for Demonstration Video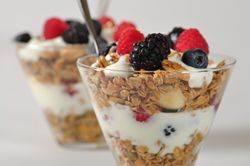 Granola Recipe:
3 cups (300 grams) old-fashioned rolled oats
1/2 cup (25 grams) shredded sweetened or unsweetened coconut
1 cup (100 grams) sliced almonds, pecans, walnuts, cashews, sunflower seeds, and/or pumpkin seeds
1/2 teaspoon ground cinnamon
1/4 teaspoon salt
2 tablespoons (28 grams) unsalted butter, melted or 2 tablespoons vegetable oil
1/4 cup - 1/2 cup (60 - 120 ml) pure maple syrup or honey (or to taste)
Granola Trifles:
Yogurt (Plain or Flavored)
Fresh Fruit (berries, slices of bananas, mangoes, pineapples, oranges, kiwi, apples, pears and/or melons)