Homemade Doughnuts
Homemade Doughnuts: In a large bowl whisk together 2 1/4 cups (295 grams) flour and the yeast. Add the butter and, with a pastry blender or your fingertips, cut or rub the butter into the flour mixture until you have coarse crumbs. Stir in the sugar and salt.
Make a well in the center of the flour mixture and add the lukewarm milk and lightly beaten egg and stir until you have a ball of dough. Add more flour, a tablespoon at a time, if necessary. Then transfer the dough to a lightly floured surface and knead until the dough is no longer sticky and is smooth and elastic (about five minutes). Shape the dough into a ball and place in a lightly greased large bowl, turning once. Cover the bowl with plastic wrap and let rise in a warm place until doubled (approximately 1 1/2 - 2 hours). Then place the dough on a lightly floured surface, and gently punch the dough to release the air. With a lightly floured rolling pin, roll the dough to a thickness of about 1/2 inch (1 cm). Cut the dough into about 2 1/2 - 3 inch (6-7 cm) circles, using a lightly floured doughnut cutter or cookie cutter (will need a smaller cookie cutter to cut out the center "hole"). Place the doughnuts on a lightly floured baking sheet, lined with parchment or wax paper. Gather up the scraps, roll, and cut out remaining doughnuts. You can keep the donut holes to fry separately, if you like. Loosely cover the doughnuts with plastic wrap (lightly butter or spray the plastic wrap with a non stick vegetable spray so the doughnuts won't stick) and let rise in a warm place until almost doubled (about 30-60 minutes).
Clip a candy thermometer to the inside of a large, deep, heavy bottomed saucepan (Dutch oven), and at medium-high heat, bring about 2 inches (5 cm) of oil (canola, vegetable, peanut, or corn) to 375 degrees F (190 degrees C). Carefully place the doughnuts into the hot oil, about 2 to 3 at a time (do not over crowd). Fry each side until golden brown, about 45-60 seconds per side. The doughnut holes will only take about 30 seconds per side. Carefully remove the doughnuts from the hot fat with the end of a wooden spoon, tongs, slotted spoon, bamboo chopstick, or Chinese skimmer. Place on a baking sheet lined with clean paper towels. After a minute, roll the doughnuts in the sugar. Let the oil return to 375 degrees F (190 degrees C) before adding more doughnuts. These doughnuts are best freshly made.
Makes about 8 - 3 inch doughnuts and 8 doughnut holes.(The recipe can be doubled.)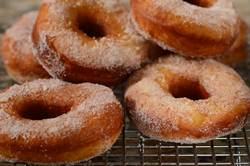 Homemade Raised Doughnuts:
2 1/4 - 2 1/2 cups (295 - 325 grams) all-purpose flour
1 1/2 teaspoons active dry yeast
3 tablespoons (40 grams) room temperature unsalted butter, cut into small pieces
3 tablespoons (35 grams) granulated white sugar
1/4 teaspoon salt
1/2 cup (120 ml) milk, heated to lukewarm
1 large egg, lightly beaten
Topping:
1/2 - 1 cup (100-200 grams) granulated white sugar or 1/2 - 1 cup (60 - 120 grams) sifted powdered (confectioners or icing) sugar

Scan for Demonstration Video