Hot Cross Buns Recipe
Hot Cross Buns: In the bowl of your electric stand mixer, fitted with the paddle attachment, combine the flour, yeast, sugar, spices, and salt. Add the milk, butter, egg, and the candied and dried fruit and beat until the flour is moistened. With the mixer on first speed, with the dough hook, knead the dough until it is silky smooth and elastic (about 5 to 7 minutes).
Place the dough in a lightly greased bowl, turning the dough once, so the top is lightly greased. Cover with plastic wrap and let rise at room temperature (about 75 degrees F) (24 degrees C) until almost doubled in size (about 1 1/2 hours).
When the dough is puffy and soft, divide into 10 equal pieces (about 100 grams each). Form each piece into a round ball (see video for demonstration) and place on a parchment lined baking sheet. They should be evenly spaced so they have enough room to double in size. Make an egg wash of one beaten egg with 1 tablespoon milk, and, with a pastry brush, brush the tops and sides of the buns. Lightly spray a piece of plastic wrap with a nonstick cooking spray, and place lightly over the buns. Let proof at room temperature (about 75 degrees F) (24 degrees C) until almost doubled in size (about one hour).
Preheat oven to 400 degrees F (200 degrees C).
When ready to bake, brush the tops of the buns with the egg wash. For the crosses, whisk the flour and sugar with enough water until it is of piping consistency. Place in a piping bag, fitted with a small plain tip (I used a Wilton #5), and pipe crosses on each bun (See video for demonstration). Place the baking sheet in the preheated oven and bake for about 15 - 17 minutes, or until the buns are nicely browned. Place on a wire rack to cool completely before glazing.
Glaze: In a small bowl combine the confectioners sugar, vanilla extract, and milk and mix until smooth. Place the glaze in a small piping fitted with a small plain tip and pipe a 'cross' on the top of each bun. Let dry at room temperature.
Makes 10 buns.

Scan for Demonstration Video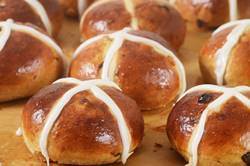 Hot Cross Buns:
3 3/4 cups (485 grams) all purpose flour
2 teaspoons (7 grams) SAF Red or Gold Instant Yeast (Can use one - 1/4 ounce package (7 grams) active dry yeast. See head note for instructions)
1/4 cup (55 grams) light brown sugar
1 teaspoon ground cinnamon
1/2 teaspoon ground allspice
1/4 teaspoon freshly grated nutmeg
1 1/2 teaspoons (6 grams) salt
1 cup (240 ml/grams) milk, at room temperature
5 tablespoons (70 grams) unsalted butter, softened
1 large (50 grams) egg, lightly beaten
1/4 cup (40 grams) candied mixed peel
1/2 cup (75 grams) dark or golden raisins (or currants)
Egg Wash:
1 large (50 grams) egg, at room temperature
1 tablespoon milk
For Crosses: (optional)
1/2 cup (65 grams) all purpose flour
1 teaspoon (5 grams) granulated white sugar
1/4 cup (60 ml/grams) water
Glaze:
1/2 cup (60 grams) confectioners (powdered or icing) sugar, sifted
1/8 teaspoon pure vanilla extract (optional)
1 tablespoon milk or cream