Marble Yogurt Cake
Marble Yogurt Cake: Preheat your oven to 350 degrees F (180 degrees C) and place the oven rack in the center of the oven. Butter, or spray with a non stick vegetable spray, an 8 inch (20 cm) round cake pan with 2 inch (5 cm) sides. Line the bottom of the pan with parchment paper.
Place the chocolate and coffee (or water) in a heatproof bowl and place over a saucepan of simmering water. Melt and then remove from heat, letting it cool to room temperature.
In a large bowl, stir or whisk together the flour, baking powder, baking soda, and salt.
In another bowl, stir or whisk together the eggs, oil, yogurt, and vanilla extract. Stir in the sugar. Add the wet ingredients to the dry flour mixture. Stir just until combined. Remove a little less than half of the batter (400 grams) to another bowl and stir in the melted chocolate mixture.
Place the vanilla batter in the bottom of your pan. Smooth the batter with the back of a spoon or offset spatula. Then pour the chocolate batter on top of the vanilla batter, smoothing the batter with the back of a spoon or offset spatula. Then run (don't stir) a wooden skewer or knife through the two batters to achieve a marbled effect. Gently tap the cake pan on your counter to break any air bubbles that may have formed in the cake batter.
Bake in preheated oven for about 40 to 50 minutes or until a toothpick inserted into the center of the cake comes out clean. Rotate your cake pan front to back about halfway through baking. Remove from oven and place on a wire rack to cool for about 10 minutes before removing from pan. Let cool completely before covering with the Chocolate Ganache.
Chocolate Ganache: Place the chopped chocolate in a heatproof bowl. In a small saucepan place the cream and butter and bring to a boil. Immediately pour over the chocolate and let sit a few minutes before stirring until smooth. Let sit at room temperature until of spreading consistency. Then spread the Ganache over the top of the cake. Sprinkle with toasted nuts.
This cake can be stored for about 3 to 4 days in the refrigerator or it can be frozen for one month. Defrost in the refrigerator overnight.
Makes one - 8 inch (20 cm) cake.

Scan for Demonstration Video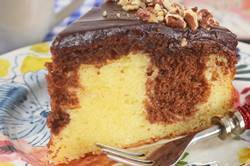 Marble Yogurt Cake:
3 ounces (85 grams) semi sweet or bittersweet chocolate, chopped
1 tablespoon (10 grams) coffee or water
1 1/2 cup (195 grams) all purpose flour
1 teaspoon (4 grams) baking powder
1/2 teaspoon (2 grams) baking soda
1/2 teaspoon (2 grams) fine kosher salt
3 large eggs (150 grams out of shell), at room temperature
1/2 cup (120 ml/grams) flavorless oil (safflower, corn, vegetable, or canola)
1 cup (240 ml/grams) whole milk plain yogurt, at room temperature
1 1/2 teaspoons (6 grams) pure vanilla extract
1 cup (200 grams) granulated white sugar
Chocolate Ganache: (optional)
4 ounces (115 grams) bittersweet or semisweet chocolate, finely chopped
1 tablespoon (13 grams) unsalted butter, cut into small pieces
1/3 cup (80 ml/grams) heavy whipping cream (cream with a 35-40% butterfat content)
Garnish: (optional)
Toasted and chopped nuts (pecans, walnuts, almonds, hazelnuts)