Mocha Muffins: Preheat oven to 375 degrees F (190 degrees C). Place oven rack in center of oven. Line 12 muffin cups with paper liners, or butter or spray with a non stick cooking spray.
In a large bowl whisk together the eggs, buttermilk, oil, coffee, and vanilla extract.
In another large bowl whisk together the flours, cocoa powder, brown sugar, baking powder, baking soda, and salt. Stir in the chopped nuts and chocolate chips. With a rubber spatula fold the wet ingredients into the dry ingredients and stir only until the ingredients are combined. (Do not over mix the batter or the muffins will be tough.)
Evenly fill the muffin cups with the batter, using two spoons or an ice cream scoop. Place in the oven and bake until a toothpick inserted in the center of a muffin comes out clean, about 18-23 minutes. Transfer to a wire rack and let cool for about 5-10 minutes before removing from pan. Can be stored at room temperature for a few days or they can be frozen.
Makes about 12 regular sized muffins.

Scan for Demonstration Video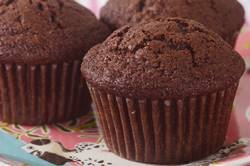 Mocha Muffins:
2 large eggs
1/2 cup (120 ml) buttermilk
1/2 cup (120 ml) safflower, corn, vegetable, or canola oil
1/4 cup (60 ml) black coffee or espresso, at room temperature
1 teaspoon pure vanilla extract
1 cup (130 grams) all-purpose flour
3/4 cup (95 grams) whole wheat flour
1/4 cup (25 grams) regular unsweetened cocoa powder
1 cup (205 grams) light brown sugar
1/2 teaspoon baking powder
1 teaspoon baking soda
1/4 teaspoon salt
1/2 cup (120 ml) pecans, walnuts, hazelnuts or almonds, coarsely chopped (optional)
1 cup (240 ml) cappuccino, semisweet, milk, or white chocolate chips