No Bake Chocolate Cake: Preheat your oven to 350 degree F (180 degree C). Line a 9 x 5 x 3 inch (23 x 13 x 8 cm) loaf pan with plastic wrap or foil and then lightly butter the foil, or spray with a non stick cooking spray.
Toasting Hazelnuts: Place the hazelnuts on a baking sheet and bake for about 13-15 minutes or until fragrant and the skins begin to flake (peel). Remove from oven and immediately cover the pan with a clean dish towel. Let the nuts sit (steam) for about 5 to 10 minutes and then briskly rub the nuts in the towel to remove the skins. Let cool and then chop the hazelnuts into small pieces.
Toasting Almonds, Walnuts, and Pecans: Place the nuts on a baking sheet and bake for about 8 - 10 minutes or until lightly brown and fragrant. Let cool then chop coarsely.
Meanwhile, break or chop the Digestive Biscuits into small pieces.
Place the toasted and chopped nuts in a large bowl, along with the Digestive Biscuits (and their crumbs) and raisins.
Then in a heatproof bowl, placed over a saucepan of simmering water, melt the chocolate, butter, and golden syrup.
Once the chocolate mixture is melted and smooth, remove from heat and gently stir into the Digestive Biscuits, nuts, and raisins mixture, until everything is coated with the chocolate mixture. Spread this mixture into your prepared pan, cover, and refrigerate for an hour or two, or until set. Cut or break into slices. Store in an airtight container in the refrigerator for about a week. Or it can be frozen for about a month.
Makes about 18 - 1/2 inch (1.25 cm) slices.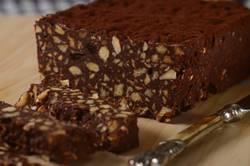 No Bake Chocolate Cake:
1 1/2 cups (220 grams) toasted nuts, chopped into small pieces (can use hazelnuts, almonds, peanuts, walnuts, pecans, and/or macadamia nuts)
6 ounces (180 grams) Digestive cookies (or graham crackers, shortbread cookies and/or butter cookies)
1/4 cup (60 grams) chocolate covered raisins or dried fruits (raisins, cranberries, cherries, apricots, etc.)
10 ounces (300 grams) semi-sweet or bittersweet chocolate, coarsely chopped
3/4 cup (170 grams) butter, cut into small chunks
1/4 cup (60 grams) corn syrup, golden syrup, honey, agave, or brown rice syrup