No Churn Vanilla Ice Cream: You will need a metal loaf pan lined with plastic wrap. Place in the freezer until cold (this will take at least one hour).
Next, place the cold heavy whipping cream and vanilla extract in the bowl of an electric stand mixer, fitted with the whisk attachment (can also use a hand mixer or mix by hand with a wire whisk). Beat until soft peaks form. Then add the chilled sweetened condensed milk and salt and, with the mixer speed on high, beat until thick and creamy with stiff peaks.
Transfer the mixture to the chilled loaf pan, smoothing the top with the back of a spoon or offset spatula. Press plastic wrap directly onto the surface of the ice cream to prevent ice crystals from forming. Freeze until cold and firm (this will take about 6 to 8 hours). Can be stored in the freezer for two to three weeks.
Makes about 5 cups (1.2 liters).

Scan for Demonstration Video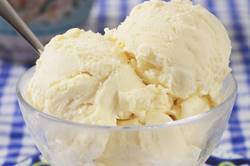 No Churn Vanilla Ice Cream Recipe:
2 cups (480 ml/grams) cold heavy whipping cream (cream with a 35-40% butterfat content)
1 - 14 ounce (396 grams) can cold sweetened condensed milk (280 ml)
2 teaspoons (8 grams) pure vanilla extract or vanilla bean paste
1/8 teaspoon fine kosher salt