In a medium sized saucepan bring the 4 cups of water to boil. Sprinkle the oatmeal over the boiling water, stirring constantly to prevent any lumps from forming. Add the salt and reduce the heat to low and allow the porridge to simmer for 30 minutes, stirring occasionally.
Serve with brown or white sugar and milk or cream.
Leftovers can be covered and refrigerated for another morning. To reheat, simply add a little hot water or milk to thin out the porridge and then place in the microwave or in a heatproof bowl over a saucepan of simmering water until warm.
Makes 4 servings.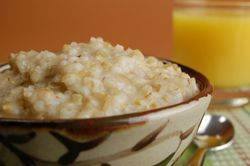 Oatmeal Porridge Recipe:
4 cups (1 liter) water
1 cup (180 grams) steel-cut Irish Oatmeal
1/4 teaspoon salt
For Garnish:
Brown or White Sugar and Rich Milk or Cream