Whole Wheat Banana Muffins: Preheat your oven to 375 degrees F (190 degrees C) and place the oven rack in the center of the oven. Line 12 muffin cups with paper liners, or you can butter or spray the muffin cups with a non stick vegetable spray.
In a large bowl combine the flours, baking powder, baking soda, salt, and ground cinnamon. Stir in the chopped nuts.
In another large bowl whisk the eggs until frothy. Stir in the mashed bananas, maple syrup, brown sugar, buttermilk, oil, and vanilla extract. With a rubber spatula or wooden spoon, lightly fold the wet ingredients into the dry ingredients just until combined. (The important thing is not to over mix the batter or the muffins will be tough and rubbery.) Spoon the batter into the prepared muffin tins and, if desired, place a slice of banana or dried banana chip on top of each muffin for garnish. Bake about 18 - 22 minutes or until a toothpick inserted in the center comes out clean. Place on a wire rack to cool for 5 - 10 minutes and then remove muffins from pan. Serve warm or at room temperature. The muffins are best the day they're made, but they can be covered and stored for a few days. Or they can be frozen for about one month.
Makes about 12 regular sized muffins.

Scan for Demonstration Video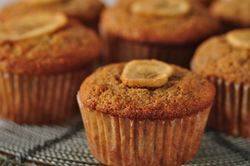 Whole Wheat Banana Muffins Recipe:
1 1/2 cups (195 grams) whole wheat flour
1/2 cup (65 grams) all purpose flour
1 teaspoon (4 grams) baking powder
1/2 teaspoon (2 grams) baking soda
1/4 teaspoon (1 gram) salt
1/2 teaspoon ground cinnamon
1 1/2 cups mashed banana (about 3 large ripe bananas (approximately 1 pound or 450 grams))
2 large eggs, at room temperature
1/3 cup (80 ml/grams) pure maple syrup (I used Grade A dark amber)
1/2 cup (100 grams) firmly packed light brown sugar
1/3 cup (80 ml/grams) buttermilk, at room temperature
1/3 cup (80 ml/grams) flavorless oil (canola, corn, vegetable, or safflower oil)
1 teaspoon (4 grams) pure vanilla extract
1/2 cup (55 grams) walnuts or pecans, coarsely chopped
Garnish: (Optional)
1 large banana, sliced or dried banana chips