Yeast Waffles: In a bowl, whisk together the flour, yeast, baking soda, salt, and sugar. In a separate large bowl whisk together the eggs, milk, melted butter, and vanilla extract. Gradually add the egg mixture to the flour mixture, and stir (or whisk) just until combined and smooth. Cover the bowl with plastic wrap and place in the refrigerator overnight. (The batter will keep in the refrigerator for 2 to 3 days.)
Next morning, preheat your waffle machine. Then, depending on your machine's instructions, you may need to lightly grease (with a flavorless oil) or spray the grids with a non stick vegetable spray. Spoon or pour about 1/2 cup (120 ml) of batter (or amount that is recommended in your waffle iron's instruction book) onto one side of the hot waffle iron. Take the back of a spoon, or small heatproof offset spatula, and smooth out the batter. Close the lid of your waffle machine and bake until brown and crisp (about 5-7 minutes). It is best to serve the waffles immediately. If not, place the waffles (directly on the oven rack) in a 200 degrees F (95 degrees C) oven for up to 30 minutes. Waffles can also be frozen. To freeze, once the waffles have completely cooled, wrap in plastic wrap, and place in an airtight freezer bag. They can be stored in the freezer for about a month. To reheat, preheat oven to 350 degrees F (180 degrees C). Place the still frozen waffles directly on your oven rack and bake for about 5-10 minutes, or just until they are heated through. Alternatively, you can place the frozen waffles in your toaster and heat.
Waffles are delicious when served with butter and maple syrup or honey, jam, or fruit sauces (blueberry, strawberry, or raspberry). They are also very good when served as a dessert with fresh berries and whipped cream.
Makes about 8 - 4 1/2 inch (10 cm) square Belgain waffles.

Scan for Demonstration Video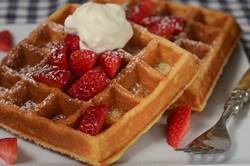 Yeast Waffles:
2 cups (260 grams) all-purpose flour
1 1/2 teaspoons (5 grams) SAF red instant yeast (or active dry yeast)
1/4 teaspoon (1 gram) baking soda
1/2 teaspoon (2 grams) salt
3 tablespoons (40 grams) granulated white sugar
2 large eggs (100 grams)
1 3/4 cups (420 ml) milk
1/2 cup (113 grams) melted unsalted butter, cooled
1/4 teaspoon (1 gram) pure vanilla extract (optional)