Strawberry Puree (Sauce) Recipe
Place the unsweetened frozen strawberries in a large bowl and thaw. This may take a few hours. Once thawed, put the strawberries and their juice in the bowl of a food processor or blender and process the berries until they are pureed. Pour the puree into a 2 cup (480 ml) measuring cup. You should have about 1 1/4 cups of puree. Add 1/4 cup (50 grams) of the sugar to start and stir until the sugar dissolves. Taste and add more sugar if needed. Can also add a little lemon juice to taste.
Store covered in the refrigerator for one week. The sauce can also be frozen.
Makes approximately 1 1/4 cups (300 ml).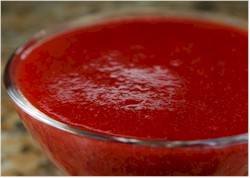 1 - 20 ounce bag (570 grams) of frozen unsweetened strawberries or 20 ounces of fresh strawberries
1/4 - 1/3 cup (50 - 65 grams) granulated white sugar, or to taste
Freshly squeezed lemon juice, optional