Cranberry Scones Recipe
Cranberry Scones: Preheat your oven to 400 degrees F (200 degrees C) and place the oven rack in the center of the oven. Butter or line a baking sheet with parchment paper.
In a large bowl, whisk together the flour, sugar, baking powder and salt. Cut the butter into the flour mixture with a pastry blender or two knives. The mixture should look like coarse crumbs. Gently stir in the cranberries making sure not to crush the berries. Add the milk and stir until just combined. Do not over mix.
Transfer to a lightly floured surface and knead the dough four or five times and then pat, or roll, the dough into a circle that is about 7 inches (18 cm) round. Cut this circle into 8 triangles. Transfer to the prepared baking sheet and then brush the top of the scones with milk or cream. If desired, sprinkle with sliced almonds.
Bake for about 17 - 20 minutes or until the crusts of the scones are brown and crisp, and a toothpick inserted into the center of a scone comes out clean. Remove from oven and place on a wire rack to cool. Excellent plain or you can serve with butter or Devon cream.
Makes 8 scones.
Scan for Demonstration Video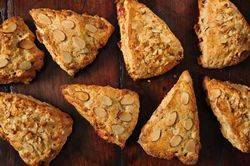 Cranberry Scones:
2 cups (260 grams) all-purpose flour
1/3 cup (65 grams) granulated white sugar
2 1/2 teaspoons (10 grams) baking powder
1/2 teaspoon (2 grams) salt
1/2 cup (113 grams) cold unsalted butter, cut into small pieces
2/3 cup (70 grams) fresh or frozen cranberries (cut in half) (can also use dried cranberries)
1/3 cup (50 grams) mixed candied fruit and peel (optional)
2/3 - 3/4 cup (160 - 180 ml) milk or cream
1/4 cup (25 grams) sliced almonds (optional)