Apple Crisp: Preheat your oven to 375 degrees F (190 degrees C) and place the oven rack in the center of the oven. Butter, or spray with a non stick cooking spray, a 9 inch (23 cm) deep dish pie pan or an 8 inch (20 cm) square baking dish with 2 inch (5 cm) sides.
Topping: In a bowl, whisk together the flour, sugars, cinnamon, and salt. Using a pastry blender, two knives, or your fingertips, cut the butter into the flour mixture until you have coarse crumbs. Then stir in the rolled oats and chopped nuts. Set aside while you prepare the filling.
Filling: Place the apple chunks in a large bowl, along with the berries (if using). Toss with the lemon juice and sugar. Transfer to your prepared baking dish. Spread the topping evenly over the apples.
Bake for approximately 30 - 40 minutes or until bubbly and the topping is golden brown. (If you insert the tip of a sharp knife into a chunk of apple, it should be tender, not mushy.) Remove from oven and place on a wire rack to cool for about 20 to 30 minutes before serving.
Serve with softly whipped cream or vanilla ice cream. Refrigerate leftovers and reheat before serving.
Makes about 6 servings.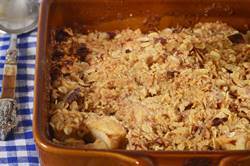 Topping:
1/2 cup (65 grams) all purpose flour
1/4 cup (50 grams) granulated white sugar
1/4 cup (55 grams) light brown sugar
1/2 teaspoon ground cinnamon
1/8 teaspoon salt
6 tablespoons (85 grams) cold unsalted butter, cut into pieces
1/3 cup (30 grams) old-fashioned rolled oats
1/2 cup (50 grams) chopped walnuts or pecans
Filling:
6 cups (750 grams) Apples (peeled, cored, and cut into 1 inch (2.5 cm) chunks) (You will need about 2 1/2 pounds (1.1 kg) of Apples.) Use a firm textured apple that will keep its shape when baked - Granny Smith, Honeycrisp, Braeburn, Gala, Golden Delicious, and Jonagold are some good choices.
1 cup fresh blackberries or raspberries (optional)
1 tablespoon (5 grams) lemon juice
3 tablespoons (40 grams) granulated white sugar, or to taste