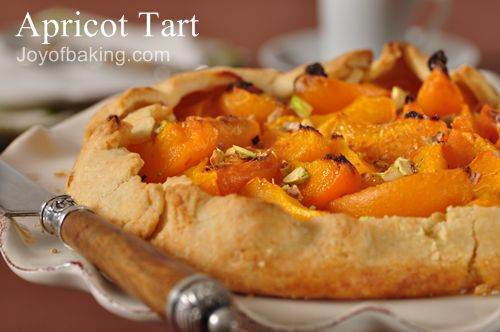 This European-style Apricot Tart shows how good perfectly ripened apricots can taste. Fresh apricots are such a treat so when we use them in our baking we want a dessert that brings out their sweet and acidic flavor. I believe this tart does just that. It takes fresh apricots, with their skins still intact, cuts them into thick wedges, gently tosses them with sugar and a little salt, and arranges them on a platform of buttery crisp pastry. I love how this tart looks after it is baked, the golden brown pastry and the apricot wedges with their caramelized tips. Very nice warm from the oven served with a small scoop of vanilla ice cream.
The pastry used for this apricot tart is made from a mixture of flour, a little sugar, salt, butter, and ice water. It has a high ratio of fat to flour which gives the pastry its crisp and crumbly texture and buttery flavor. No tart or pie pan is needed here, for this is what we call a free form tart. That means the pastry is rolled out, the fruit is arranged on top, and then the edges of the pastry are folded up and over the fruit. It is the perfect backdrop for fresh fruit at its prime. I have used the same technique for this Peach Tart, and this Raspberry Tart. The secret to its success is to bake it in a hot oven so that the pastry bakes and browns quickly and the fruit softens, yet still retains its shape.
It doesn't seem that long ago that we had to content ourselves with dried apricots as fresh were almost impossible to find, unless you were fortunate enough to live near an orchard. This lovely orange colored stone fruit is native to China but it eventually made its way to California where most of this fruit is now grown. When you look at an apricot you can see its resemblance to the peach. Its has that same round shape, albeit smaller, and fuzzy outer skin which some like to remove, but I don't, especially for this tart. Both of these fruits also have that characteristic "suture" that runs from stem to blossom end, which serves as a guide for cutting the fruit in half to remove its inner seed. And let us not forget the apricot's flesh, sweet and juicy with a touch of tanginess that never fails to delight. When buying apricots, smell and feel each piece of fruit. They should smell of apricots and feel firm, yet have a slight give when you press gently on its shoulders. Make sure there are no bruises, cuts, or soft patches on the apricots.
This recipe is adapted from one of my favorite cookbooks The Zuni Cafe Cookbook by Judy Rodgers.