Brownies: Preheat your oven to 325 degrees F (165 degrees C). Butter, or spray with a non stick vegetable spray, an 8 inch (20 cm) square baking pan. Then line the bottom of the pan with parchment paper.
Melt the chocolate and butter in a stainless steel (heatproof) bowl, placed over a saucepan of simmering water. Remove from heat and whisk in the sugar. Next, whisk in the vanilla extract. Whisk in the eggs, one at a time. Finally, stir in the flour and salt.
Pour into the prepared pan and bake for about 25 minutes, or until a toothpick inserted in the center comes out with a few moist crumbs. Remove from oven and let cool completely on a wire rack before cutting into squares.
Cherries: To make a sauce, drain the cherries, reserving the liquid. Place the liquid in a small saucepan, along with the sugar, and simmer for about 10 minutes or until the sauce is syrupy. Remove from heat and add the Kirsch. Pour the sauce over the drained cherries and let cool before making the trifles.
Whipped Cream: In the bowl of your electric stand mixer, fitted with the whisk attachment (or with a hand mixer), whip the cream, sugar, and vanilla extract until soft peaks form.
To Assemble the Trifles: You will need eight small glasses or bowls. For each trifle, take one brownie and cut it into small bite-sized pieces. Place in the bottom of your glass or bowl. Next, place a spoonful of the cherries, and their juices, on top of the brownies. Finally, top with a large dollop of whipped cream. You can repeat the layers, starting with the brownies, if you like. Cover and refrigerate for 4 to 24 hours to allow the flavors to mingle.
Just before serving sprinkle the top of each trifle with grated or shaved chocolate.
Makes eight servings.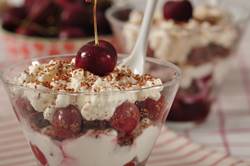 Brownies:
4 ounces (120 grams) unsweetened chocolate, coarsely chopped
1/2 cup (113 grams) unsalted butter, cut into pieces
1 cup (200 grams) granulated white sugar
2 large eggs (100 grams without the shells), at room temperature
1 teaspoon (4 grams) pure vanilla extract
3/4 cup (95 grams) all-purpose flour
1/4 teaspoon (1 gram) kosher salt
Cherries:
1 - 24 ounce jar (680 grams) Morello Cherries in syrup
2 tablespoons Kirsch or Cherry Brandy, or to taste
3 tablespoons (40 grams) white granulated sugar, or to taste
Whipped Cream:
1 1/2 cups (360 ml/grams) cold heavy whipping cream (cream with a 35-40% butterfat content)
1 1/2 tablespoons (20 grams) white granulated sugar, or to taste
1/4 teaspoon (1 gram) pure vanilla extract
Garnish:
Shaved or grated semi-sweet or milk chocolate