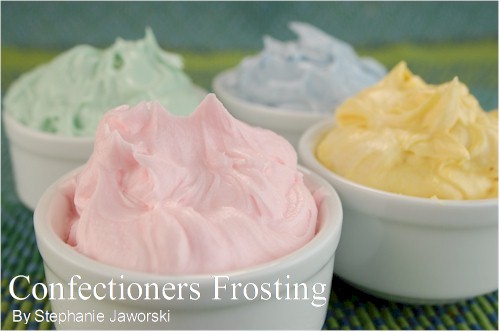 When your cake needs a butter frosting, try this delicious American-style Confectioners' Frosting. It is quick to make and easy to use. You can spread it thick, spread it thin, pipe it, and color it. As its name implies, Confectioners' Frosting is made with confectioners sugar (also known as icing or powdered sugar) along with butter, vanilla extract, and milk. It has a wonderfully light and fluffy texture with a sweet and buttery flavor. It is a great all purpose frosting that you can use to fill and frost butter cakes, cupcakes, chiffon cakes, American-style sponge cakes, and even butter cookies. It can be held at room temperature which makes it particularly well suited for baking that shouldn't be refrigerated.
Confectioners Frosting is also known as Vanilla Frosting, Butter Frosting, and Buttercream. It is not what you would call a real buttercream, that is, one that is made with eggs and a sugar syrup. As I have said above, Confectioners Frosting contains just confectioners sugar, butter, vanilla extract, and a little milk. Its light and fluffy texture comes from beating these ingredients together for a long time (about five minutes). The end result is a frosting with a nice spreading consistency. You do not want it too thick or it will tear the cake, or too thin as it will run. So if you have to, adjust the milk and/or sugar until it is just right. Like most frostings, Confectioners Frosting is at its best when used right away but it can be stored for later use (in the refrigerator). When you need it, just bring it to room temperature and beat until it returns to its light and fluffy texture. If you find the frosting is too thick, add a little milk.
Now, one of the great things about this frosting is that it colors so nicely. My preference is the gel pastes sold in small jars, which can be found at cake decorating store and Michaels. You can use this frosting two ways, either by simply spreading it on your baking using a knife or offset spatula, or you can use a piping bag fitted with a decorating tip (I like to use Wilton 1M open or closed star tips). Once your baked good has been frosted it does need to be covered as the frosting will become hard and crusty over time.