Hummingbird Cake: Preheat oven to 350 degrees F (180 degrees C). Butter, or spray with a non stick spray, two - 9 x 2 inch (23 x 5 cm) round cake pans and line the bottoms of the pans with parchment paper.
Place the pecans on a baking sheet and bake for about 8 minutes or until lightly browned and fragrant. Let cool and then chop finely.
In a large bowl whisk together the flour, sugar, baking soda, salt, and ground cinnamon. Then stir in the chopped pecans.
In another large bowl, whisk together the eggs, oil, vanilla extract, pineapple, and mashed bananas. Add the wet ingredients to the flour mixture and stir until combined. Evenly divide the batter between the two prepared pans and bake for about 25 to 30 minutes or until a toothpick inserted in the center of the cake comes out clean.
Remove from oven and let cool on a wire rack. After about 10 minutes invert the cakes onto the wire rack, remove the pans and parchment paper, flip the cakes right side up, and then cool completely before frosting.
Frosting: In the bowl of your electric mixer (or with a hand mixer), beat the butter and cream cheese, on medium-low speed, until very smooth. Gradually add the sifted powdered sugar and beat, on medium-low speed, until fully incorporated and smooth and fluffy. Scrape down the sides of the bowl as needed. Beat in the vanilla extract and then beat (or stir) in the finely chopped pecans.
To assemble: Place one cake on your serving platter. Spread with about a third of the frosting. Gently place the other cake layer on top and spread the rest of the frosting over the top and sides of the cake. Can garnish with pecan halves. If not serving immediately, refrigerate the cake. Bring to room temperature before serving.
Serves 14-16 people.
View comments on this recipe on YouTube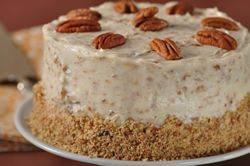 Hummingbird Cake Recipe:
1 cup (100 grams) pecans
3 cups (390 grams) all-purpose flour
2 cups (400 grams) granulated white sugar
1 teaspoon (6 grams) baking soda
1/2 teaspoon salt
1 teaspoon (3 grams) ground cinnamon
3 large eggs, lightly beaten
3/4 cup (180 ml) safflower, vegetable, corn, or canola oil
1 1/2 teaspoons pure vanilla extract
1 - 8 ounce (227 grams) can crushed pineapple, do not drain
2 cups (400 grams) mashed ripe bananas (about 4 medium sized bananas)
Pecan Cream Cheese Frosting:
1/4 cup (55 grams) butter, room temperature
8 ounces (227 grams) cream cheese, room temperature
1 pound box (450 grams) (about 4 cups) confectioners sugar (powdered or icing), sifted
1 teaspoon (4 grams) pure vanilla extract
1/2 cup (50 grams) finely chopped pecans