Lemon Curd: In a heatproof bowl, preferably stainless steel, placed over a saucepan of simmering water, whisk together the eggs, sugar, and lemon juice until blended. Heat, stirring constantly, until the mixture becomes thick (like sour cream) (166 degrees F or 74 degrees C) and coats the back of a spoon. (This will take approximately 10 minutes.) Remove from heat and immediately pour through a fine strainer to remove any lumps. Whisk in the butter until the butter has melted. Add the lemon zest and cover immediately to prevent a skin from forming. Let cool to room temperature and then refrigerate until firm. This will take several hours (preferably overnight).
Cheesecakes: Preheat your oven to 300 degrees F (150 degrees C) and place the oven rack in the center of the oven. Line 12 muffin cups with paper liners.
Graham Cracker Crust: In a small bowl combine the Graham Cracker Crumbs, sugar, and melted butter. Press a heaping tablespoon of crumbs onto the bottom of each muffin cup. Cover and refrigerate while you make the filling.
Cheesecake Filling: In the bowl of your electric stand mixer, fitted with the paddle attachment (or with a hand mixer), beat the cream cheese on low speed until creamy and smooth. Add the sugar and salt and beat, on medium low speed, until combined. Scrape down the sides and bottom of the bowl as needed. Add the eggs, one at a time, beating until incorporated. Add the vanilla extract and sour cream and beat until smooth. Remove the crusts from the refrigerator and evenly divide the filling among the 12 muffin cups.
Bake for about 18 - 20 minutes or until firm but the centers of the cheesecakes are still a little wet and wobbly. Remove from oven and place on a wire rack. Let cool and then cover with plastic wrap and refrigerate for several hours or preferably overnight.
To Serve: Once the cheesecakes have been chilled, gently remove the paper liners. Pour a heaping tablespoon of the Lemon Curd on top of each cheesecake. The cheesecakes can be stored for several days in the refrigerator or they can be frozen.
Makes 12 individual cheesecakes.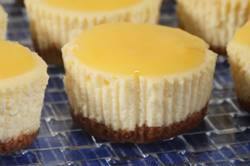 Lemon Curd Recipe:
3 large (150 grams) eggs
3/4 cup (150 grams) granulated white sugar
1/3 cup (80 ml/grams) freshly squeezed lemon juice (about 2 large lemons)
4 tablespoons (55 grams) butter, diced
1 tablespoon (5 grams) finely shredded lemon zest
Graham Cracker Crust:
1 cup (100 grams) Graham Cracker Crumbs or crushed Digestive Biscuits
1 tablespoon (15 grams) granulated white sugar (optional)
4 tablespoons (55 grams) butter, melted
Cheesecake Filling:
2 - 8 ounce packages (450 grams) cream cheese (full fat), at room temperature
2/3 cup (130 grams) granulated white sugar
1/8 teaspoon salt
2 large (100 grams) eggs, at room temperature
1 teaspoon (4 grams) pure vanilla extract
1/2 cup (120 ml/grams) sour cream (full fat), at room temperature (can also use plain yogurt)