Impossible Coconut Pie: Preheat your oven to 350 degrees F (180 degrees C). Butter, or spray with a non stick cooking spray, a 10 inch (25 cm) pie pan that is about 2 inches (5 cm) deep.
Place all the ingredients, except the dried coconut, in your blender or food processor and process until well combined. Then stir in the coconut. (You can also do this by hand. In a large bowl whisk the eggs. Then, one by one, whisk in the rest of the ingredients.)
Pour the batter into your prepared pie pan and bake for about 55 - 60 minutes or until the top is golden brown and a toothpick inserted into the center of the pie comes out clean. If you gently shake the pan the pie will be set. Remove from oven and place on a wire rack until cool. Can be served warm, at room temperature, or cold. Leftovers can be covered and stored for a day or two. Although you will notice that the coconut topping does soften after being stored.
Serves 8 to 10 people.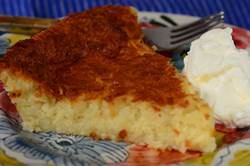 Impossible Pie:
4 large eggs, at room temperature
1 cup (200 grams) granulated white sugar
1/2 cup (65 grams) all purpose flour
1/4 teaspoon (1 gram) salt
1/4 teaspoon (1 gram) baking powder
1/2 cup (113 grams) butter, melted and cooled to room temperature
2 cups (480 ml) whole (full fat) milk, at room temperature
2 teaspoons (8 grams) pure vanilla extract
1 1/4 cups (125 grams) shredded or flaked sweetened dried coconut