Lemon Filling: Place the egg yolks in a medium sized heatproof bowl and set aside. Then, in a heavy bottomed saucepan whisk the sugar with the salt and cornstarch. Gradually pour in the boiling water, whisking constantly. Place the saucepan over medium heat and, whisking or stirring constantly, bring just to a low boil. Adjust the heat and continue to cook the mixture for a minute or two or until thick and translucent. Remove from heat and whisk a little of the hot mixture into the egg yolks (to temper the yolks). Then whisk the egg yolks back into the hot mixture. Return the saucepan to the heat and cook, on medium low heat, stirring constantly, until the mixture just reaches a low boil. Adjust heat and cook for a few minutes (until you see large breaking bubbles) to cook the egg yolks. Remove from heat and whisk, or stir, in the butter, lemon zest, and lemon juice. If there are any lumps in your filling, strain. Then immediately cover with plastic wrap (to prevent a skin from forming) while you make the meringue.
Meringue: In a heatproof bowl (preferably stainless steel) whisk the egg whites with the sugar and cream of tartar. Place over a saucepan of simmering water and, whisking or stirring constantly, heat the egg whites until the sugar has melted and the mixture is hot (160 degrees F or 71 degrees C) as this is the temperature that kills the risk of salmonella). Remove from heat and transfer the egg whites to your mixing bowl fitted with the whisk attachment (can use a hand mixer). Beat the whites on high speed until stiff peaks form. Beat in the vanilla extract.
Finally, pour the warm lemon filling into your prebaked pie crust and smooth the top with the back of your spoon or an offset spatula. Then, using two spoons, place large spoonfuls of the meringue on top of the filling. Start at the outside edge of your pie making sure the meringue touches the crust. Gently press down on the meringue to remove any air bubbles. If desired, make swirls in the meringue with the back of your spoon.
Then place the pie under a hot broiler (or you can use a hand held propane torch) until the meringue has browned. Watch carefully as it can burn very quickly.
Let the pie rest at room temperature for an hour to two so the filling has time to set. Serve or you can place it, uncovered, in the refrigerator until serving time if you prefer a chilled pie. This pie is definitely at its best the day it's made. But leftovers can be covered loosely with a piece of foil and stored for a day or two.
Serves 8 to 10 people.
Preparation time 1 hour.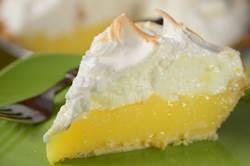 Lemon Meringue Pie

:
Lemon Filling
:
4 large egg yolks (65 grams), at room temperature
1 cup (200 grams) granulated white sugar
1/4 teaspoon (1 gram) salt
6 tablespoons (50 grams) cornstarch (corn flour)
1 1/2 cups (360 ml) boiling (or hot) water
2 tablespoons (25 grams) butter, at room temperature
1/2 cup (120 ml) freshly squeezed lemon juice, strained to remove seeds and pulp
1 tablespoon (4 grams) freshly grated lemon zest (outer yellow skin of lemon)
Swiss Meringue:
4 large egg whites (120 grams), at room temperature
1/2 cup (100 grams) granulated white sugar
1/2 teaspoon (2 grams) cream of tartar
1/2 teaspoon (2 grams) pure vanilla extract