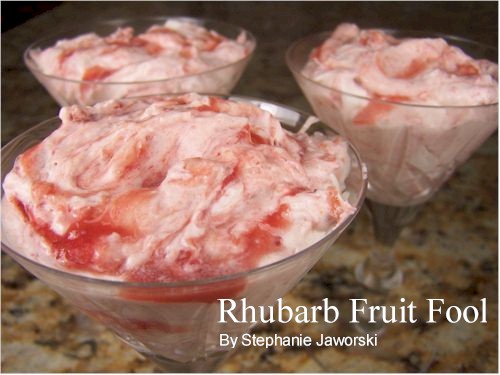 Today's Fruit Fools are made with cooked or raw fruit that has been puréed or mashed, sweetened, chilled, and then folded into whipped cream. In the past Fools were made only with tart fruits such as raspberries, gooseberries, blackberries, loganberries, or rhubarb but today virtually any fruit is used. The word "Fool" is believed to have originated from the French word "fouler" which means "to mash" or "to press".
There are a few things to keep in mind when making Fruit Fools. Anytime you use fresh fruit there is no way to know, without tasting, the exact amount of sugar needed. So start with the amount given in the recipe but add more sugar, if necessary. The Fruit Fools can be assembled several hours in advance of serving. An elegant presentation is to place the Fools in long stemmed parfait or wine glasses and you may want to garnish each glass with a fresh berry.
Lately I have found it increasingly difficult to find fresh rhubarb in grocery stores, even during its harvest time. The ideal solution, of course, is to grow your own but if that is not possible, then you can use the frozen chopped unsweetened rhubarb that is sold in 1 pound (454 grams) bags. If you use frozen rhubarb you do not have to thaw the rhubarb before baking, although the baking time may have to be extended a bit.
It took a long time for rhubarb to be recognized as a food and not just as something to be used for its medicinal purposes (as a laxative). It is believed to have originated in Asia and it started to be sold as a food sometime around 1815 at London's Covent Garden Market. We know that around this same time period it made its way to America and by 1855 the first recipes for Rhubarb Pie were being published. Rhubarb is too sour to be eaten raw so it needs to be cooked and sweetened with sugar. Rhubarb purée can be used not only for Fruit Fools but also in ice creams, sorbets, mousses and cream. It is best for the purée be made the day before it is needed so it has time to firm up and the flavors to blend.